Self-defense class held for community
Senior Lexi Knappen organized the event, which was presented by Carrie Mugridge and Prime Martial Arts and held on Thursday, Nov. 3
Anna Owsley, Mill Valley News editor in chief
November 16, 2018
Students, teachers, and parents practice self defense strategies, taught by Carrie Mugridge and Prime Martial Arts instructor Jimmy Golden, at a free self defense class at Mill Valley on Thursday, Nov. 15.
The whole event was organized by senior Lexi Knappen who felt led to bring a self defense class to her school. It was hearing about stories of assault over the summer that drove Knappen to inform her community of these dangers and the methods necessary for staying safe.
"I had the idea for [putting on] this class while I was sitting in my car listening to the news about all of the people who had gone missing in Iowa," Knappen said. "I decided that we needed to do something here in our school so that people have the opportunity to learn some self defense tips and skills to protect themselves."
Knappen aspires for everyone who participates in the class to develop a mindset that will keep them more aware and safe.
"
" I hope that people can gain that awareness and be able to be smarter and know how to protect themselves."
— Lexi Knappen
Over the summer, Lawrence resident Carrie Mugridge survived an attempted abduction. The incident resulted in feedback from women with similar or worse stories and led Mugridge to share her story publicly. This fed her desire to prevent future attacks, so she reached out to Prime Martial Arts for help with empowering other women by offering self defense classes around Kansas.
"I heard from so many women who told me their experience of when they were attacked, and what happened to themselves, or to their neighbor, or their sister. It was just overwhelming how many women had contacted me to tell me their story," Mugridge said. "I didn't realize the odds that one in five women are attacked in the United States. It's just crazy to me. After talking with the Prime Martial Arts team, I asked them if we could hold self defense classes and do as many classes as we could to try and change that [statistic]."
Coincidentally, Mugridge had been one of Knappen's grade school teachers when Mugridge was teaching in Shawnee. This connection allowed Knappen to contact Mugridge and bring the class to her community.
"It just so happened that my third grade teacher, Carrie Mugridge, had recently been involved in an attempted attack and she was able to fight off her attacker," Knappen said. "Ever since then, she started organizing self defense classes, so I contacted her to see if she would bring one to Mill Valley."
Mugridge opened the class up to all members of the De Soto school district, including participants like junior Morgan Blubaugh who see the value in learning self defense.
"I really think that [classes like this] should be a big thing for young girls and women to take, even boys, to get themselves prepared for dangerous situations," Blubaugh said.
Mugridge's hope for the class is that women walk away understanding the reality of these situations and the skills necessary for escaping the danger.
"The things we like women to know about self defense is that you're not going to win a fight, but you're going to be able to stun the person," Mugridge said. "And the way that you stun them is that you soften them up."
The class included the instruction of various strikes and movements meant to stun the attacker for a chance to escape. Blubaugh believes that these skills are beneficial and feels she is capable of using them.
"If I ever get into a situation where I do feel threatened then I will definitely use [these strategies]," Blubaugh said.
While Knappen took individual charge and organized the event single-handedly, she has high hopes that invested underclassmen will carry out the event in the future. She will "definitely be looking at [junior girls] as an option" for next year.
All donations collected by Mugridge and Prime Martial Arts through the class go to END THE BACKLOG. This is a national nonprofit organization that funds ending the backlog of rape kits in America for the purpose of transforming society's response to horrific violence like sexual and child abuse.   
(Visited 37 times, 1 visits today)
About the Contributors
Anna Owsley, Mill Valley News editor in chief
This is junior Anna Owsley's second year on the JagWire staff. She is thrilled to be undertaking the position of Mill Valley News editor-in-chief alongside Ben Wieland. Outside the J-Room, she can be found playing tennis and logging service hours for NHS. Additionally, Anna enjoys traveling, spending time with friends and binging Netflix and Hulu shows.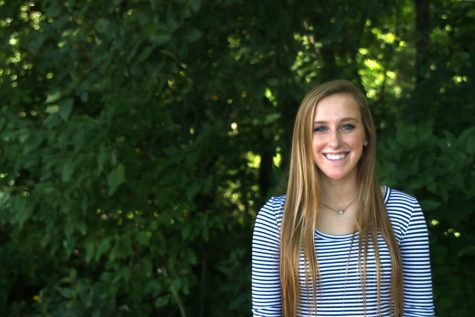 Annie Hoog, MVTV reporter/videographer
This is junior Annie Hoog's first year on the MVTV staff. Aside from MVTV, Annie is also a part of National Honors Society, National English Honors Society, Student Ambassadors, Do Good Things, Relay For Life and the girls soccer team. In her free time, Annie loves to play soccer, have fun with her friends and family, go on runs and occasionally hit the slopes.