Secret Ingredient Soup
December 16, 2020
At the climax of "Kung Fu Panda," an animated classic and one of my favorite feel-good movies of all time, the titular panda Po's father, Mr. Ping, finally reveals the secret ingredient to the family's noodle recipe. 
"The secret ingredient is… nothing!" Ping tells a baffled Po. "To make something special you just have to believe it's special." 
In the film, this moment conveys the core message of Po's story: anyone can succeed if they have confidence in themselves. In the kitchen, Mr. Ping's wisdom offers us a simple and delectable way to recreate his signature noodle recipe. 
This particular blend of noodles, broth, and flavor is quite filling. It certainly could benefit from a more diverse array of vegetables — adding carrots or celery would add another flavor to the dish without detracting from the other tastes. Frankly, any additions to spice this soup up would be a good choice; its basic yet filling ingredients create an excellent base for experimentation with bolder, more aggressive flavors.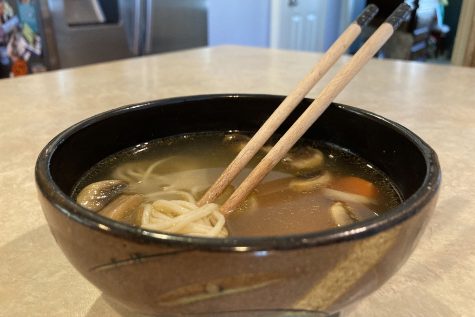 The garlic and soy sauce give the dish its Oriental flavor. I certainly wouldn't skimp on those two seasonings, and might in fact add a little bit extra; without them, the dish would simply be a bland chicken-less chicken noodle soup. A little bit of additional flavoring goes a long way.
As a full dish, though, I wouldn't recommend this soup. The lack of solid protein is really limiting. If you're in a pinch and want to make this soup one of your three daily meals, I'd recommend adding some chicken or beef to the broth once you've prepared your pot. If you have a bit more time on your hands, I'd advise trying another iconic food from the Kung Fu Panda series — chicken dumplings. 
(Visited 1 times, 1 visits today)