Second phase of nutrition changes approaching
New adjustments will be put in place for the 2014-2015 school year
Changing nutritional standards will impact food items sold on campus beginning next year. This upcoming phase put into effect by the U.S. Department of Agriculture affects all food and beverages, specifically snacks, served on campus during the school day. The USDA defines the school day as midnight to 30 minutes after the conclusion of classes.
Next year's changes will affect a la carte lunch items most, including the selection of chips currently provided. Due to the new fat content and calorie-based regulations, no full fat chips will be available to students starting next year.
Cookies will also change, as the new regulations will require them to be whole grain. Director of student nutrition Amy Droegemeier said over 600 cookies are currently sold every day at Mill Valley, a number that added up to $80,000 worth of cookies sold last school year.
"We're very concerned with [the cookies] and the changes we're going to have to make to follow the federal guidelines next year," Droegemeier said. "That's a huge part of our a la carte budget and our revenue we make every year."
Droegemeier says she and her team are aware of the cookies' popularity among students and have been "sampling multiple vendors' cookies and have yet to find ones that we think will be acceptable to students." Regardless, Droegemeier said that as of now, students can expect to see cookies of some kind sold next year.
"We're trying to strike that happy medium between following the guidelines and also providing students with things that they want and will purchase so we can stay self-sufficient with our department," Droegemeier said. "I'm trying to be creative. We're trying to come up with new solutions and get kids involved to help make those decisions."
Since the initial phase of the USDA's Healthy, Hunger-Free Kids Act of 2010 focused on hot lunches, the breakfast and lunch menus will remain relatively the same. Students can expect all grains to be whole grains, although Droegemeier said 90-95 percent of the grains currently provided in the cafeteria are already whole. Beverages sold on campus will not be affected by the new guidelines, as they already meet requirements for the upcoming regulations. Pizza will also remain available.
The Catty Shack will also be affected by the upcoming changes, and Droegemeier has been working with marketing students who run the store to be proactive in anticipation of the changes. Marketing teacher Dianna Heffernon said she and her students are still determining what food they will be able to sell during the school day. Still, they have been certain to only introduce items this year that meet the new guidelines, such as Jamba Juice.
"We started [preparing for the changes] last year," Heffernon said. "It just takes a little bit more thought and a little more creativity. That's the big thing. It's always an adventure."
Many students have been vocal about nutritional changes made in the past, as well as those coming next year.
"I think it's good that they're bringing in healthier foods, but I also think we should still have a wide variety of options," sophomore Morgan Panovich said. "I've really enjoyed having the garden bar this year because you know that what you're getting is nutritious, and it's just another opportunity to eat healthier."
In addition to the Catty Shack, vending machines will also have to conform to the standards. Droegemeier said if all items in the vending machines next year do not meet regulations, they will not be available until 30 minutes after the school day ends.
Sophomore Patrick Gambill has mixed feelings regarding the upcoming changes in regulations.
"I think it's good to have healthy options for students, but I wish they could use their own common sense to make healthy choices," Gambill said.
Taste Test Tuesday is one way students have been able to get involved in these decisions. All items sampled at Taste Test Tuesday earlier this year will be available next year in the cafeteria.
"I really liked Taste Test Tuesday," freshman Camden Davis said. "Obviously the nutritional changes were going to come at some point, and I think it's cool that they wanted to get our input."
The best way to get involved, Droegemeier said, is to give feedback.
"Please stop me when you see me in the cafeteria. Give us ideas," Droegemeier said. "We go constantly to our vendors and our food service providers to say, 'our kids are asking for this.' Just understand that we are under these restraints and under these regulations."
(Visited 33 times, 1 visits today)
About the Contributor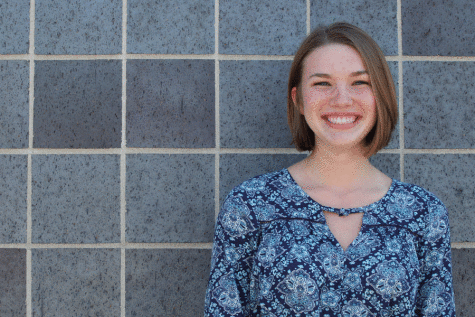 Sarah Myers, JagWire editor-in-chief
This is senior Sarah Myers' third year on staff. She is excited to be a JagWire editor-in-chief and make the paper the best it can be. While not in the journalism room, Myers can most often be found in the theater, performing in a musical or play. She is also involved in NHS, SLT and Student Ambassadors. Myers loves journalism, theater, any class of art teacher Jerry Howard's, history, life science, art, music, people and God. In her free time,...