Science Olympiad places sixth at recent tournament
The team co-hosted ThunderKat Klash with St. James on Saturday, Dec. 2
Anika Roy, JagWire editor-in-chief
December 4, 2017
The Science Olympiad team placed sixth at their second tournament of the season, the ThunderKat Klash, this past Saturday, Dec. 2 at St. James Academy.
According to sponsor Chad Brown, because the team co-hosted the tournament with St. James, there was an added stress.
"There was a lot of pressure on us because we were co-hosting and it definitely put a sense of ownership on us," Brown said. "It made us not only want to perform better, but make sure everything runs smoothly."
Members had the opportunity to perform in 23 various events based on ability and personal preference. Sophomore Griffin Schenk chose to participate in a disease detecting event and a chemistry event, both testing as opposed to building events.
"I really just am better at the test events," Schenk said. "Also, I'm in Chemistry this year and that really, really helps with all the chemistry I'm doing."
In the event called "Write It Do It," one partner spends 25 minutes writing instructions on how to build a specific structure, while the other partner attempts to rebuild it by only following said instructions. Junior Ambria Shawger believes she found success in this event because of her relationship with partner junior Aniston Cumbie.
"You see a lot of really good friends doing Write It Do It because they know each other so well, and so they know what to write, what they'll figure out and what they can't figure out," Shawger said. "[Cumbie and I] have been friends since elementary school, and that really helps us because we know … each other inside and out basically."
Along with support within partnerships and among members on the team, junior Lucy Graff acted as the self-proclaimed "cheerleader" at Saturday's tournament in order to be there for her friends.
"I originally wanted to be on the Science Olympiad team, but with my AP classes and my dance schedule, I couldn't spend the time being a part of it," Graff said. "So, I just decided to become the cheerleader and go to the meets so that I could support them and cheer them on."
The team usually meets every Tuesday and Wednesday after school, but according to Schenk, they had to practice extensively every night this week to prepare for the Klash.
"Since right after the last meet, we've been on cram mode," Schenk said. "One week to the next, it's just been go, go, go. We've had late practices every night this week, and we've been doing different stuff with our notes and making sure everything was ready to actually compete."
Competing in five events herself, senior Ashley Ebner has high hopes for the future of the team both this year, and in years to follow.
"I know the team as a whole is hoping to place at state, if possible," Ebner said. "And then eventually, maybe next year if we can, go to nationals, which would be so cool. I won't be there, but it'll still be cool to keep improving and keep getting better."
Brown agrees that he and the team are striving for a high state finish.
"I would really like to finish top three in the state," Brown said. "It's a pretty lofty goal, but I'd really like to … get our names printed up on the banner outside of the commons area. … It will just take a lot of practice and a lot of persistence."
The team will be back in action on Saturday, Jan. 20 at the Northland tournament.
(Visited 38 times, 1 visits today)
About the Writer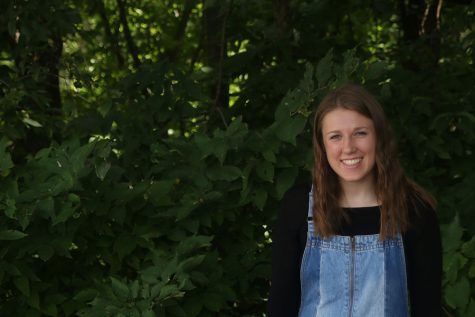 Anika Roy, JagWire editor-in-chief
This is Anika Roy's third and final year on staff, and she's incredibly excited for her position as editor-in-chief. While you can find her in the journalism room almost all the time, she also spends free time on the tennis courts, the piano, the swimming pool, or her church. Additionally, she's an officer of NHS, an executive leadership team member of Relay for Life, and a member of Spanish Honor Society, MV Outfitters, and Student Ambassadors....