Science Olympiad adjusts to new rules, new season
The team experiences setbacks with the loss of their upperclassmen team members
Science Olympiad has begun studying and preparing for their first competition on Saturday, Nov. 19. The organization has a rotating list of events offered every year, which means there have been some changes to events offered to students in competition. On top of that, the club is feeling the deficit of not having any upperclassmen this year. This has caused all members, new and returning, to have to adjust to the changes in this year's competitions.
There are nine total new events offered in competition this year. These range from Helicopter to Rocks and Minerals to one event called Microbe Mission. Since all of the members of Science Olympiad are underclassmen none of them have participated in these events before.
Another disadvantage for the club this year is that none of the students are allowed to take any AP classes that would help them in Science Olympiad. This is, of course, due to the fact that they are all underclassmen.
According to head coach Chad Brown, this is something that would have been advantageous in competition.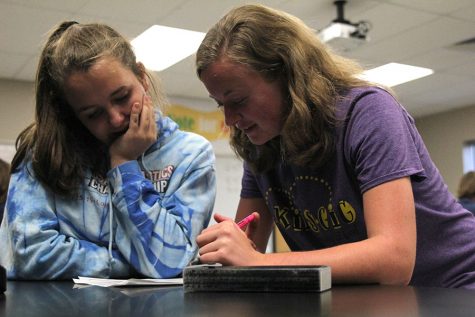 For returning member sophomore Sydney Clarkin, the beginning of the year has meant acclimating herself to new team members and new competition events.
"[Returning students] have just been trying to adjust to new members and just try to figure out new events and how navigate around [the new events]," Clarkin said.
In a Science Olympiad competition like the one coming up in November, events are split into two groups. This means that in testing events students will primarily test, while in building events students are given the chance to present what they have built specifically for that event.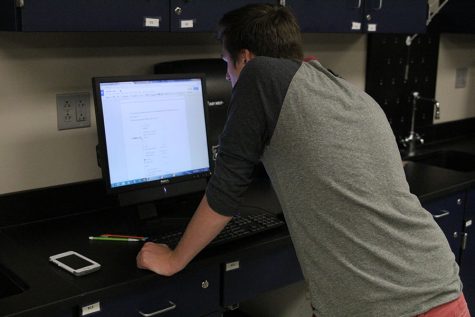 According to freshman Noah Hookstra, the release of this year's rules has made a big difference in practice.
"Now that we have [the rules], it's been intense, because there's so much information you have to cover quickly before the first test," Hookstra said.
The team practices twice a week, and on an average day, the room has 20 students working on engineering projects, studying for exam competitions and researching rules.
According to Brown, Science Olympiad is a great way for students to get involved in science, technology, engineering and math subjects.
"I hope that [students] get a sense of their own interest in science outside of what they are taught in school," Brown said.
Overall, Brown believes the team will succeed due to their passion for the subjects.
"[The students] are very enthusiastic," Brown said. "They put in time outside of practice, and they are completely committed. I'm not worried at all. This is going to be a great year."
(Visited 117 times, 1 visits today)