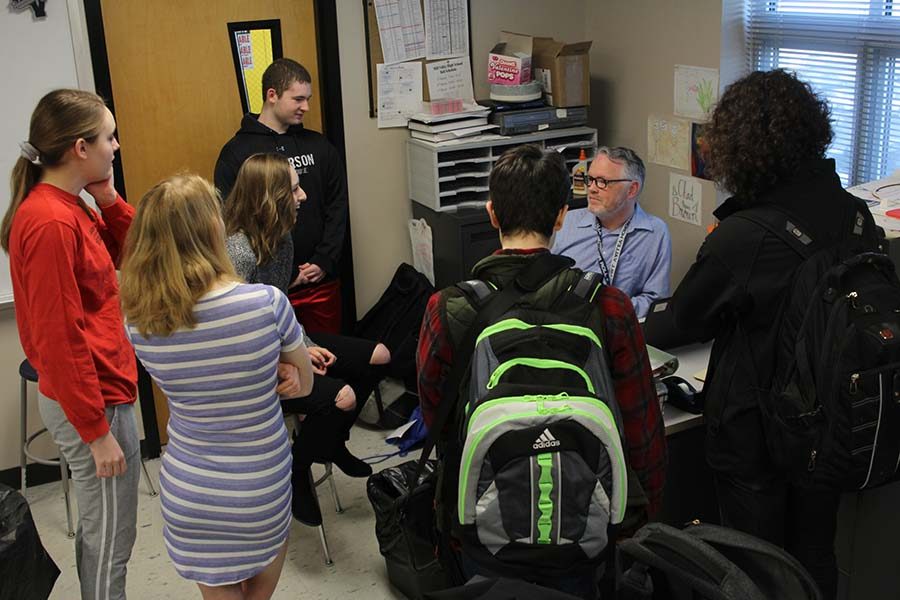 Science classroom serves as positive work, social environment before school
Science teacher Chad Brown's room becomes common space for students
April 25, 2018
Laughter erupts from the students clustered around science teacher Chad Brown's desk on the morning of Wednesday, April 11. Whether they're talking about Science Olympiad state results or anything else, every face in the room is bright with glee. Before school, Brown's room is a mixture of Science Olympiad team members, who want to hang out with their coach and fellow teammates, and physics students alike looking for a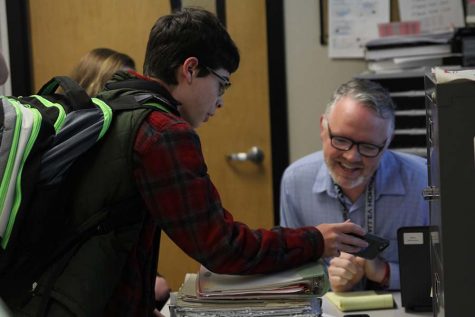 place to work. 
Sophomore Shaina Isaacsen, a self-proclaimed 'honorary member' of Science Olympiad, started spending her time in Brown's room in the morning at the beginning of this year.
"[The atmosphere in Brown's room is] pretty happy," Isaacsen said. "We're just hanging out, talking about our days."
Isaacsen says her favorite part about hanging out in Brown's room is not only Brown himself, but also the time she gets to spend with her peers before her day begins.
"All of my friends are here," Isaacsen said. "It's a nice little secluded area."
(Visited 1 times, 1 visits today)