Robotics team places 17th out of 64 teams at competition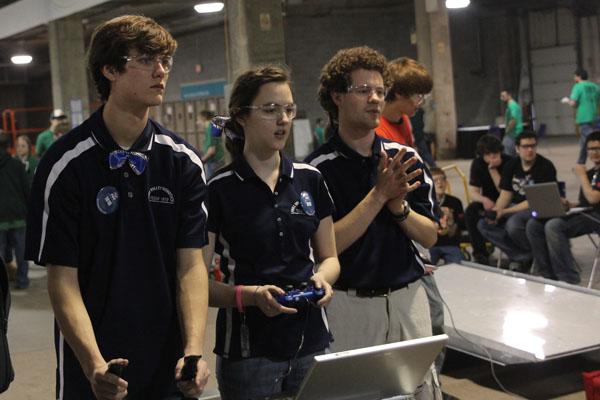 The robotics team placed 17th out of 64 teams in the FIRST Robotics KC Regional on Thursday, March 1-Saturday, March 3.
The objective of the competition was to design a robot that could shoot as many basketballs into hoops in a given time. Starting on the first day of the competition, the team had a day dedicated to working on and tweaking their robot.
Senior team captain Ryan Hannah said that this work day helped tremendously for the teams' progress.
"The robot was not done because we held back 30 pounds to be able to work on it," Hannah said. "So that extra time to work on it and fix it and add the weight helped so much."
On Friday, the team competed in six rounds of qualifying matches, ending up 5-1.
On Saturday, code problems prevented the team from being able to control the robot during the first match. During both the second and third match, the team used a bad battery, therefore the robot did not have enough voltage to function properly.
Sponsor Mary Beth Mattingly described the performance of the team at the competition in one word: experience.
"Overall, we did pretty well and we gained a lot of experience," Mattingly said. "Had this been the only regional competition, then it would have disappointing because we would have been knocked out of the running. However, this was more of a learning experience where we gained knowledge and practice."
Hannah said he had hoped for a more successful performance at the competition.
"We could have done so much better," Hannah said. "But the competition just didn't go as plan and the robot didn't act as expected."
(Visited 8 times, 1 visits today)
About the Writer
Alana Flinn, JagWire editor-in-chief
Alana Flinn is a third year staffer who is looking forward to a year full of new experiences. As editor-in-chief, Flinn hopes to finally win a Pacemaker for Mill Valley News while maintaining the quality of JagWire. She will also continue to report on her favorite sport, football. Flinn's favorite quote is: "Every person you meet, every single one, is looking for their story. There are no exceptions. You become part of it by how you treat them." -Anonymous