Robotics team begins their season with annual kickoff event
The team has grown to almost double membership, setting up an ambitious season ahead
On Saturday, January 7 the Robotics team of just over 50 members watched an international Twitch livestream of the season kickoff, which is watched by teams internationally. An animation was shown to introduce the game for the season, and the team began strategizing based on the parameters set by First Robotics Competition. 
Since first semester, the robotics team has been preparing for their annual season kickoff. By researching previous games, discussing and simulating events, members were able to get a feel for what the season would look like.
This year's game is "Charged Up"; it is a pick-and-place game in which cubes and cones have to be moved to corresponding platforms and pegs by the robot. In one section of the game the bot controls itself, and in the telop and endgame portions, people control it. Points are given for certain tasks and the team must complete the tasks quickly in just two and a half minutes. 
For robotics co-president senior Connor Bauer, the game is an exciting change. 
"For the past four years we have always had shooting games," Bauer said. "This year is the first time we have a pick and place game, so it should be a fun new challenge." 
During the kickoff, members retrieved game pieces from Garmin. Once members returned from the Garmin building, the team began filling out rules and assessing the game. With members, mentors and alumni in attendance, the team swiftly mapped out their potential strategies and goals. 
Mechanical lead junior Evan Mack took notice of how well everyone did during the event. 
"The whole team did fantastic at kickoff," Mack said. "Everyone was excited and ready to start off the season strong."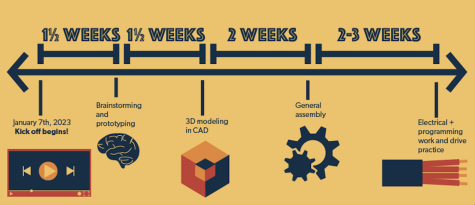 With increased membership, the team will split into varsity and junior varsity by grade level and create two robots for their competitions. This way new members will get valuable experience, and everyone can contribute to the team. 
This year, the team is focusing on success at competitions and fundraising. They are scheduled to meet with companies such as Cargill and Hoss & Brown to receive support and donations. 
 Robotics co-president senior Isaac Steiner mentioned that the team could not be successful without such ample support. 
"The district is more supportive than ever with advocates like Dr. Holder, our sponsors [who] help keep the team alive and our mentors [who] are the real backbone of our team that have taught us everything we know," Steiner said. "We wouldn't be where we are today without such amazing support from all around this community." 
The team continues to prepare for their next robotics event which will be held on Wednesday, March 22 in Sedalia Missouri. 
(Visited 54 times, 1 visits today)