Robotics starts season with live stream of game demonstration
The Jaguar Robotics team held its first meeting and received rules and regulations for the 2017 season
Robotics kicked off its season on Saturday, Jan. 7 by watching a live stream over Twitch, a live video platform, to gain access to the 2017 game rules as well as an animated game demonstration.
The team competes in the FIRST robotics competitions and is made up of students from both Mill Valley and De Soto High School. The game for the 2017 competitions is titled FIRST Steamworks as the robots will fuel steam powered airships during competitions.
There are multiple different obstacles for robots to complete this season. Obstacles include aiming whiffle balls into goals, delivering gears that control propellers and climbing a rope towards the end of the game.
Senior co-president Taylor Barth and the team will focus on and decide what obstacles their robot will excel in.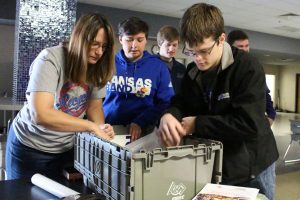 "This season, we will have to figure out exactly how we want to score points and what our method will be," Barth said. "From there, we have to figure out how to design our robot to best complete that obstacle."
From now on, the robotics team has six weeks to build its robot from start to finish.
During the timeline for completing the robot, the Jaguar Robotics team plans, builds and tests their robot.
"The first week and a half we normally spend planning and [designing] the robot," junior head of marketing Trinity Wilson said. "The next few weeks we spend building with what we have and ordering to build. Then, the last couple of weeks we spend practicing on a homemade built field."
For the first time, student participants from different teams will be allowed onto the game field during competitions to help complete tasks.
According to Barth, the game is different compared to past seasons.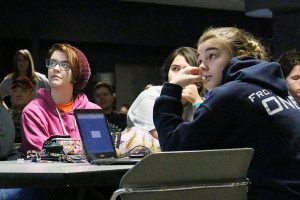 "Basically, you have to shoot wiffle balls into two different goals, a low and a high," Barth said. "You can place foam gears on a centerpiece that goes up and controls propellers. [The robot] can also climb a rope to score extra points."
The Jaguar Robotics team will be competing against 59 other teams in the Greater Kansas City Regional FIRST Robotics competition. The competition runs from Wednesday, March 15 through Saturday, March 18 at the MCC Business and Technology Campus.
(Visited 82 times, 1 visits today)