Robotics competes at off-season competition CowTown Throwdown Friday Oct. 28 and Saturday Oct. 29
Despite having an entirely new team of drivers, among other complications, the team made a good showing
Emma Clement, JagWire editor-in-chief, Mill Valley News editor-in-chief
November 3, 2022
Robotics competed at their first competition of the school year at Lee's Summit High School Friday, Oct. 28 and Saturday, Oct. 29. The team was ranked 16th out of 35 teams despite complications going into the event.
Robotics team sponsor Neil McLeod thought the robot did well at the competition, despite the lack of experienced drivers. 
"Our robot did really, really well," McLeod said. "All of the students we had driving from last year graduated, so we had fresh drivers. I think I counted [that] we had 13 different people give it a shot at driving. Even though the robot performed really, really well, driving the robot at competitions for the first time is never easy."
The inexperienced drivers were not the only complication, though. According to mechanical subteam captain junior Evan Mack,  the robot was not working when the team arrived at the competition and had to be fixed on-site.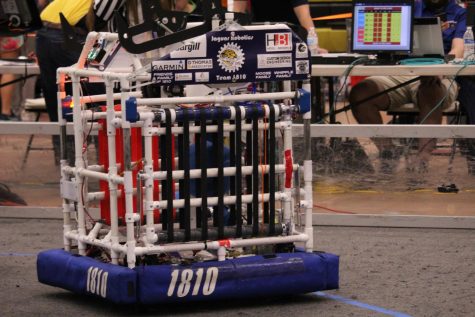 However, the team was able to make the necessary repairs and placed 16th in the preliminary rounds. Sophomore Reid Ellis, a member of the team's programming subteam, reflects on the team's successes at the event.
"All things considered, getting 16th place in the qualification rounds out of 35 is pretty good," Ellis said. "That's the middle of the pack. We performed solidly I'd say."
The teams performing best in the preliminary rounds are most likely to be chosen for the alliances in the elimination rounds, where the top eight teams from the preliminary rounds choose two other teams to compete alongside them. Each alliance also chooses a back-up team in case another robot on the alliance breaks or has another issue that prevents its team from competing. Mack describes the tasks the robot completed at the competition to get chosen for an alliance. 
"[The robot does well] by doing specific tasks like winning, climbing or shooting up balls in the goal," Mack said. "That goes into a final bracket to see who wins or who gets picked for an alliance."
Outside of the specifics of the event, according to Ellis, this competition was special because two team alumni came to support the team at the event. 
"Two alumni, at least from last year, showed up: Jordan Manning and Patrick Mack," Ellis said. "[They] drove a few hours to come down over the weekend and watch the events."
(Visited 122 times, 1 visits today)