Review: The Museum at Prairie Fire
A guide to all the sights and experiences the museum has to offer
The Museum at Prairie Fire, located in Overland Park, offers many sights and activities for friends and families to see. Besides being a hot spot for photo opportunities, the museum itself has many features that would make a perfect day out for anyone. 
The museum is open from 10:00am to 3:oopm Monday through Saturday and 12 am to 3 pm on Sundays. 
The admission price to the museum is $10 for adults and $5 for kids 12 and under.
Starting with the ground level, the museum includes a replica of the T-Rex from the "Night at the Museum" movies where artifacts at New York City's American Museum of Natural History come to life. It is one of only three replicas in the world making it a very rare find.
Continuing with the dinosaur theme, there is a mirrored screen with customizable dinosaurs that walk across the screen. This activity is a great way for younger children to spend their time, and just one of many of the museum's "hands on" activities. 
The museum offers ways for all members of the family to get involved, such as a long wall of posters covering topics of race and identity, which is a great place for teenagers and adults to explore while visiting.
You start to enter the most hands-on room of the museum on the upper floor of the building. Topics of space and wildlife are seen through hands-on activities like solving puzzles, as well as looking closely at different artifacts and living creatures. This area is great for younger children, but is still educational with real fossils and informative readings as well. You are able to hold or pet most of the creatures in this part of the museum.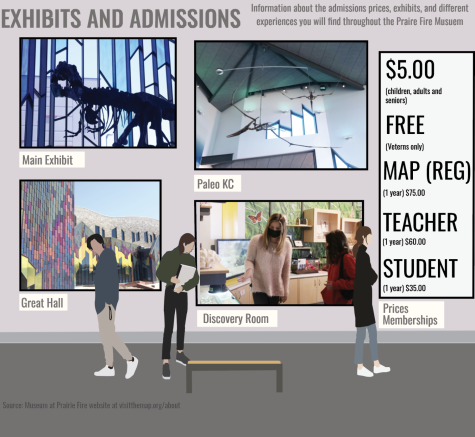 The hands-on portion of the museum shows representation of cultures through face masks and information about each one. There are also replicas of real life human skeletons showing the evolution of humans, where you can match together different skulls from different periods in human evolution.
Moving past that section, the museum also includes a wide variety of creatures and insects, which adds to the whole "living" theme of the museum. In  this portion, creatures such as a snake, turtles, fish, snails, cockroaches, iguanas, and more. 
There is a life-sized artificial tree where through a screen you can see different points of views from different creatures such as bees and other wildlife that could be found in the natural world. 
Through the final room the main focus is space including smelling a "moon" and a wall where you can learn about the star signs, and you can even draw your own.
In the future, the museum plans on opening a new exhibit called Kansas Revealed that features a look at how Kansas might have looked like in the time of the dinosaurs for all ages. This new exhibit is sure to be an exciting new addition to the museum
Overall, this museum is great for those who are looking to get a very hands-on learning experience. Entering the museum is a reasonable price and has enough activities to occupy anyone for hours of time. Prairie Fire is especially fun for groups, visiting would be a great way to spend time with friends while also being able to learn a few things about the world around us. Although this museum is geared more towards children, it is truly a fun and exciting experience for all ages.
(Visited 242 times, 1 visits today)