Review: The Energy Within
Metaphysical shops are a great place to shop for crystals, herbs and other spiritual objects
Maya Parks, JAG reporter/photographer
March 14, 2021
Whether you believe in crystals or not, The Energy Within, is a safe and welcoming place for anyone wanting to expand and learn more about crystals, spiritual objects and their energies.
Located at 7807 W 151st St, Overland Park, KS 66223, The Energy Within provides a wide variety of different crystals, herbs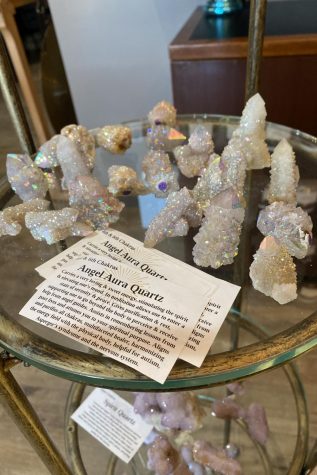 and spiritual equipment to further and grow your collection. Although Energy is about 20 minutes from the school, it was worth the trip to feel the powerful energy inside the store. When we first walked into the store, we were warmfully greeted by an employee who was helpful in any questions we had. Filled with many different crystals, coming in tumbled, raw and clusters, they had a large collection of rose quartz, amethyst, obsidian and many other crystals.
The store contains many other spiritual objects such as pendulums, tuning forks and singing bowls, or tarot cards. Incense and incense holders varied in price, but the average price was $2 for a long wooden incense holder and $2 for about 20 sticks. They sell both sticks or incense or cones if you prefer the cones. In one side of the store there were many different types of sage that were around $4 for a stick of sage. They sell different types of sage to cleanse your area. 
Behind the counter, there are many pieces of jewelry such as rings and necklaces that range in the upper $30 to $100, depending on how big the crystal is and the type of crystal. There were some small pieces of stone pendants that were $5 and could be made into a necklace if you were looking for small and dainty pieces.
Recently, Moldavite has become a popular crystal to own. Depending on where you get it from, it could be real or fake, so it is advised to check with the seller and to make sure that they know it is a true piece. Energy Within does carry some pieces of moldavite inside necklaces, the biggest piece being about $200. Also another popular trend has been to buy hematite rings. There was a large case, but many of the rings were sold out. Each ring costs around $5 and they come in many different sizes, shapes and colors such as black or a holographic.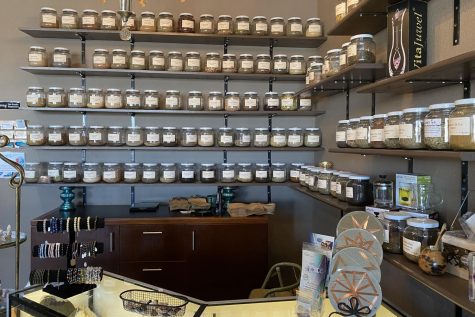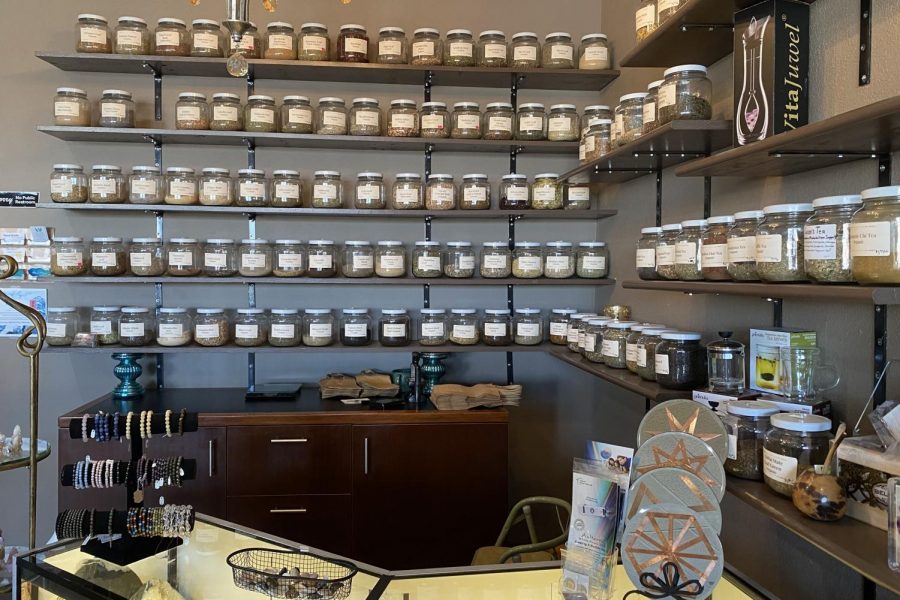 If you enjoy making magic or jars with herbs, then they have a large wall in the upper right corner. The herbs can help with self love, prosperity, protection or anything you wish with the right ingredients.
Energy provides classes and events such as yoga, sound healing, past life classes, tarot readings and meditation. On March 15, 2021, Energy will be holding a Spring Equinox yoga session at 6 p.m. and on March 17, 2021 a Kundalini Meditation Cultivation Courage at 6:30 p.m.
To those who either don't know where to start, want to continue their collection, or to find a locally metaphysical shop, The Energy Within is an amazing place to visit and stop by, even to see what is selling. I will definitely go back and recommend to my friends the next time I need a new crystal or some new incense.
(Visited 609 times, 1 visits today)