Review: Tacos El Viejon
JAG staffer reviews food from a local authentic Mexican food truck Tacos El Viejon
As I pulled into the parking lot of a florist shop I was weary, but as I got closer loud, upbeat music was coming from the colorful and lit-up truck. My stomach growled as I rolled down the window and a waft of spices entered my nose. 
If you have been craving some amazing, authentic Mexican food and a fun food truck experience Tacos El Viejon located off of Shawnee Mission Parkway and Neiman is the place to go.
The only down side of the food truck was that there was no seating, so I had to sit in the car, which was somewhat of a disappointment, however, it's understandable because of COVID-19. 
The menu was in Spanish (with some English translation) and included a variety of meat including marinated pork, chicken, barbacoa and many more. They offered five ways to prepare your meat; tacos, burritos, tortas, mulitas or quesadillas. 
To drink, the taco truck also offered authentic Mexican sodas and horchata— a rice water, cinnamon drink. I tried the horchata and it was the perfect sweet flavoring I was desiring after my salty meal. 
The food truck was out of burritos which was disappointing, so  instead I ordered a chicken quesadilla, which included their well-seasoned chicken, cheese, onions and chives with a jalapeno on the side. We also got the choice of red or green sauce and guacamole. The green sauce had a little kick, but overall was not too spicy and the guacamole was very watery but had an overall good taste. 
The people working were very nice and explained what was in each dish. Our food came out at a reasonable time as we got there as soon as the truck's dinner rush came in. 
The mini chicken tacos cost $3.00 each and it was well worth it. They were topped with cilantro, lime, tomato, onion, and lettuce. They were delicious and filled with flavor. Especially amazing when the green sauce is drizzled on top. 
I would definitely recommend eating at Tacos El Viejon. It was relatively cheap for a good amount of food that was delicious and a good alternative to the fast-food we have around Shawnee. 
(Visited 213 times, 2 visits today)
About the Writer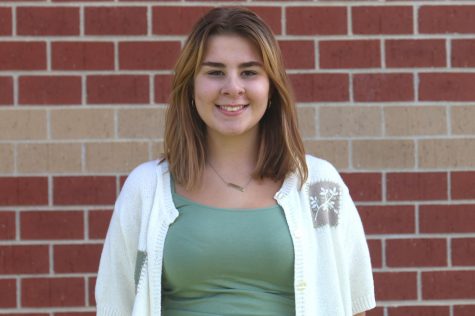 Elise Canning, JAG reporter/photographer
This is junior Elise Canning's second year on the JAG yearbook staff. She will continue to be a writer on staff and a designer for the yearbook. Elise is also involved in StuCo, where she is the student body secretary, and English NHS. When she isn't in school you can find her buying far too many plants, thrifting and antiquing with her friends or at one of the many coffee shops around.