Review: Rising star Kacey Musgraves lights up Kansas City
Musgraves brings the '70s to a sold-out Starlight Theatre performance on her "Oh, What A World" Tour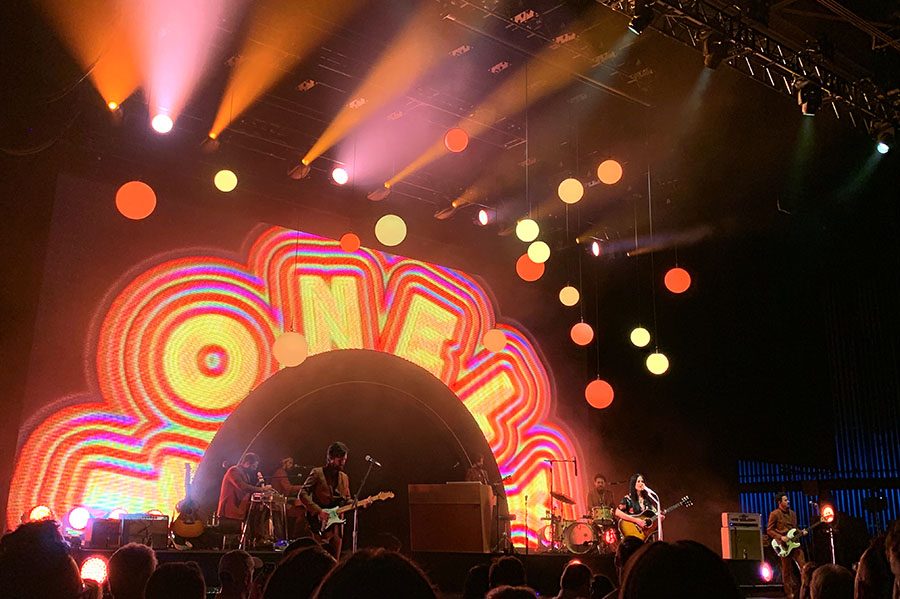 As the lights dimmed in Starlight Theatre and stage lights turned on, the crowd cheered in excitement as the silhouette of singer Kacey Musgraves appeared and let out the first notes of "Slow Burn," the opener off of her Grammy Award winning Album of the Year, Golden Hour. Musgraves' performance on Wednesday, Sept. 4 was dominated by songs off of her most recent album Golden Hour, but also featured songs from her first album Same Trailer Different Park, along with a cover of "I Will Survive" by Gloria Gaynor.
The sold-out show filled the hour and 45 minutes with lighting and effects that brought everyone back to the '70s. The lighting featured all colors of the rainbow and even the effects of a rainbow gradient in a lot of the songs. Basketball sized lights hung from the ceiling, dropping down and changing colors for different songs.
Musgraves wore a Coy fish dress she bought in Japan, standing out from her band members that were dressed in tan from head to toe, each with their own spin. They really brought the hippie-chic aspect of the '70s to the show.
On stage, Musgraves was poised and played her guitar for most songs, with not much movement around the stage. Occasionally she would move to each side of the stage with her microphone, but mainly stood behind the mic stand. Her vocals were so spot on, she didn't need to move around the stage to get the crowd involved.
About halfway through the concert, Musgraves and her band unplugged and transferred to the center of the stage, forming a half circle around Musgraves. They performed "Oh, What A World," "Family Is Family" and half of "Love Is A Wild Thing" before switching back to their electric instruments. They did this all while continuing to play the song and without missing a beat.
To close out the show, she sang one of her most upbeat, and arguably one of her most popular songs, "High Horse." She had to take her heels off for this one and had everyone in the crowd jumping to the beat, soaking in her last few minutes on stage.
Setlist:
"Slow Burn"
"Wonder Woman"
"Butterflies"
"Lonely Weekend"
"Happy & Sad"
"Merry Go 'Round" 
"High Time"
"Golden Hour"
"Mother"
"Oh, What a World"
"Family Is Family"
"Love Is a Wild Thing"
"Velvet Elvis"
"I Will Survive"
"Space Cowboy"
"Follow Your Arrow"
"Rainbow"
"Neon Moon"
"High Horse"
(Visited 192 times, 1 visits today)