Review: Inspire Nutrition
JAG staffer reviews drinks from Lenexa's health food restaurant Inspire Nutrition
Maya Parks, JAG reporter/photographer
February 18, 2021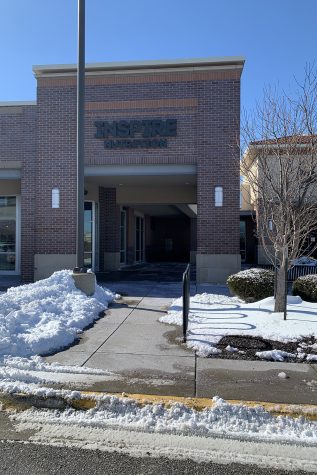 The second I walked into Inspire Nutrition, I was happily greeted by a worker who was more than ecstatic to give me the information I needed to know about the different teas, shakes, and foods.
Inspire Nutrition is located at 10068 Woodland Rd, Lenexa, KS 66220 and is about a 10- to 15-minute drive from Mill Valley, and personally I believe is worth the trip. The little shop was covered in decorations that made it feel homey and comfortable. There was a little seating area near the window, so it is a good place for you and a couple of friends to sit and enjoy your drinks.
When looking at the menu, there are many different "levels" of teas you can get. Each level tea has different factors that the lower level tea does not have. There are 3 different levels and more benefits increase as the level goes up. The Level 3 tea costs about $7 for a 32 oz tea. It contains 25 calories and has about 200mg of caffeine. The tea helps boost metabolism and burn calories and is infused with herbal tea concentrate with aloe, liftoff and NRG, which are used for mental clarity and boost energy.
$7 dollar combo TMNTea
The TMNTea has an ombré effect where it goes from a dark blue to a yellow. Every cup has an inspirational quote on the side to make it feel more unique. The drink had a tart taste to it, but was still an amazing drink. The flavors were mouthwatering and I couldn't stop drinking it until I realized the whole thing was gone in a matter of minutes. The only con I would have to say is a majority of the drink is ice, but you still get a bunch of helpful benefits in the drink.
Other than teas, Inspire Nutrition also sells a large variety of shakes. Alongside the teas, the shakes contain a healthy set of vitamins and minerals. The shakes have about 24g of protein, ranges from 200-300 calories and have 21 vitamins and minerals. The menu shows the different types of shakes such as French Vanilla, Dutch Chocolate, Mint Chocolate and many sweet and fruity shakes. Under the shake names, it shows specific types of shake flavors you can choose and also displays if they are a fan favorite or gluten free. The prices range depending on the shake, so there is not a set price for each shake. On the left of the shakes it talks about the combo for a level 1, 2 or 3 tea and a shake, as well as boosters and upgrades for an up charge.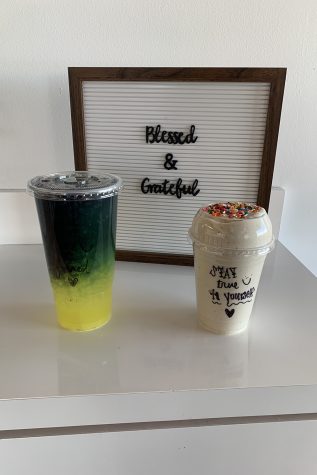 Birthday cake
The shakes have different ranges of prices depending on the ingredients inside. The birthday cake flavoring is listed under the Cookies N' Cream section, and is said to be a fan favorite. Topped with sprinkles, my server quickly made me the birthday cake shake, which is also said to be a meal replacement. The shake also had a cute little saying on the side which made me feel as if they care for their customers and creating a happy and inviting experience. The shake is not so thick that your cheeks hurt before even getting a taste, and it's not too runny where it tastes like water, so it has a perfect consistency to enjoy a true shake. The shake was a little too sweet for me, but if you enjoy sweeter flavors and cake flavors, then I recommend the birthday cake. If sweet is not your favorite they have other fruity or tropical flavors such as pina colada or a wild berry flavor.
Thinking back on the trip to Inspire Nutrition, I will definitely be going back for another tea when I need a refreshing taste or get a shake if I am looking for a sweeter meal replacement. I would recommend taking the trip and seeing it for yourself. The employees definitely made my visit more welcoming and they were helpful when asking about the menu. They engage in amazing conversations and make sure to make you feel more as a friend than a customer. On top of the employees, the drinks were thoroughly thought out and refreshing. Although the taste of the teas were sweet and the cups had more ice than I would have wanted, the teas still gave off amazing flavors and benefits, and I personally felt more awake and focused. They also have more options than teas and shakes such as a post-workout drink, snacks like protein bars and protein bites, as well as high protein iced coffee. If you are ever looking for a place to go with a friend or just by yourself, I say stop by Inspire Nutrition and grab a drink and have a welcoming conversation with the employees if you enjoy learning about others.
(Visited 428 times, 1 visits today)