Review: Hawaiian Bros
While the restaurant's food isn't exceptional, Hawaiian Bros is a welcome addition to the local fast food scene
Ben Wieland, Mill Valley News editor-in-chief
March 22, 2021
When I arrived at Hawaiian Bros's new location off Shawnee Mission Parkway, the restaurant staff seemed prepared for a grand opening. Employees were directing cars around in the parking lot like it was a Kansas City Chiefs game, and all hands were on deck — there were nearly half a dozen staff members working in the parking lot alone. 
The restaurant's interior design matched its glossy, modern exterior. The layout is spacious, and the building itself is larger than most fast food joints, which allows for a spacious dine-in area and plenty of room dedicated to drive-thru or curbside pickup; about half the restaurant's customers when I arrived were eating inside, while the other half waited in the drive-thru line.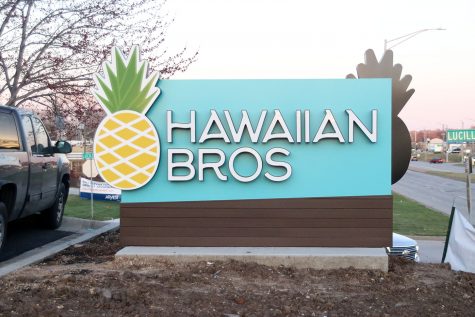 I decided to sample a standard dinner meal: molokai chicken with a sour sauce, macaroni salad, and an order of the restaurant's oft-recommended Dole soft serve. 
The molokai chicken, served on a bed of white rice, was absolutely the most impressive part of the meal. The meat was perfectly cooked, and the sour sauce served on the chicken was a cut above traditional fast-food fare. Given the choice between Hawaiian Bros molokai chicken and other fast-food chicken offerings like McDonalds nuggets or Panda Express orange chicken, I would choose the healthier and tastier molokai every time. 
The macaroni salad was less impressive. Its cold, sterile texture didn't blend well with its bland flavor at all. When I return to Hawaiian Bros, I'll definitely try and substitute my side of macaroni salad for a side of grilled pineapple. 
I'd heard a lot of hype about the Dole whip soft serve before trying it for the first time, which might've made my expectations a bit too optimistic, but the ice cream dessert was just mediocre. It was well-made, and certainly a filling dessert, but it wasn't anything special either. 
Overall, Hawaiian Bros is a good — but not great — high-end fast food joint. It's certainly worth trying, and sticks out in terms of quality among its neighbors off Shawnee Mission Parkway; while it isn't anything to write home about, Hawaiian Bros is a welcome addition to the local menu of fast food restaurants. 
(Visited 1,033 times, 1 visits today)