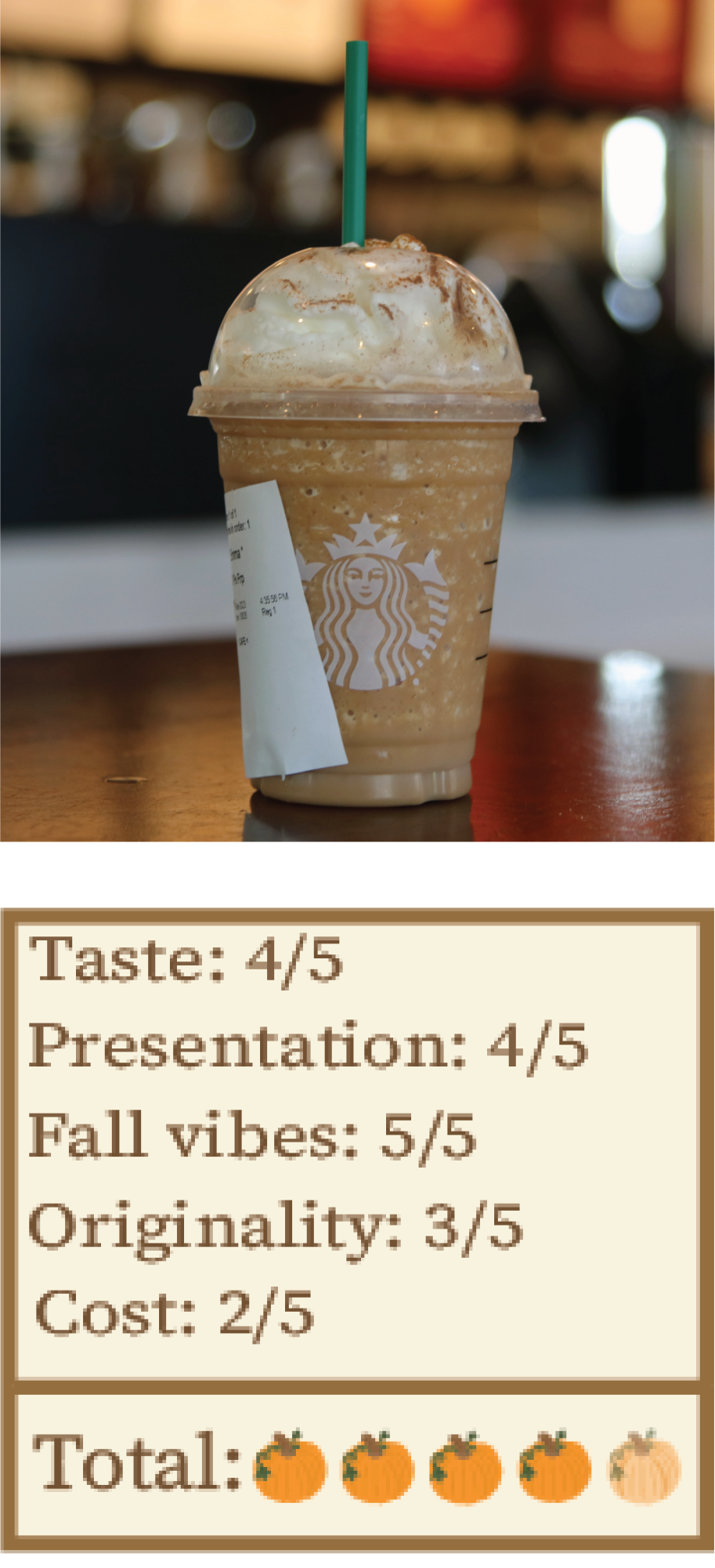 Starbucks
First, we went to Starbucks and we got a Pumpkin Spice Frappuccino. It tasted pretty good, but there was room for improvement. The fall vibes were immaculate. It felt like we were sitting in front of a fire looking out at the red and orange painted trees. The presentation was amazing too as the brown tones with orange accents really made it pop. Finally, the originality and cost were at best, mediocre. It was original with a nice spin on a frappuccino but its pumpkin flavor was lackluster, whereas the cost was way too overpriced for a simple drink. Its average score comes in at a four, being our winner for the competition.
Graphics by Avery Clement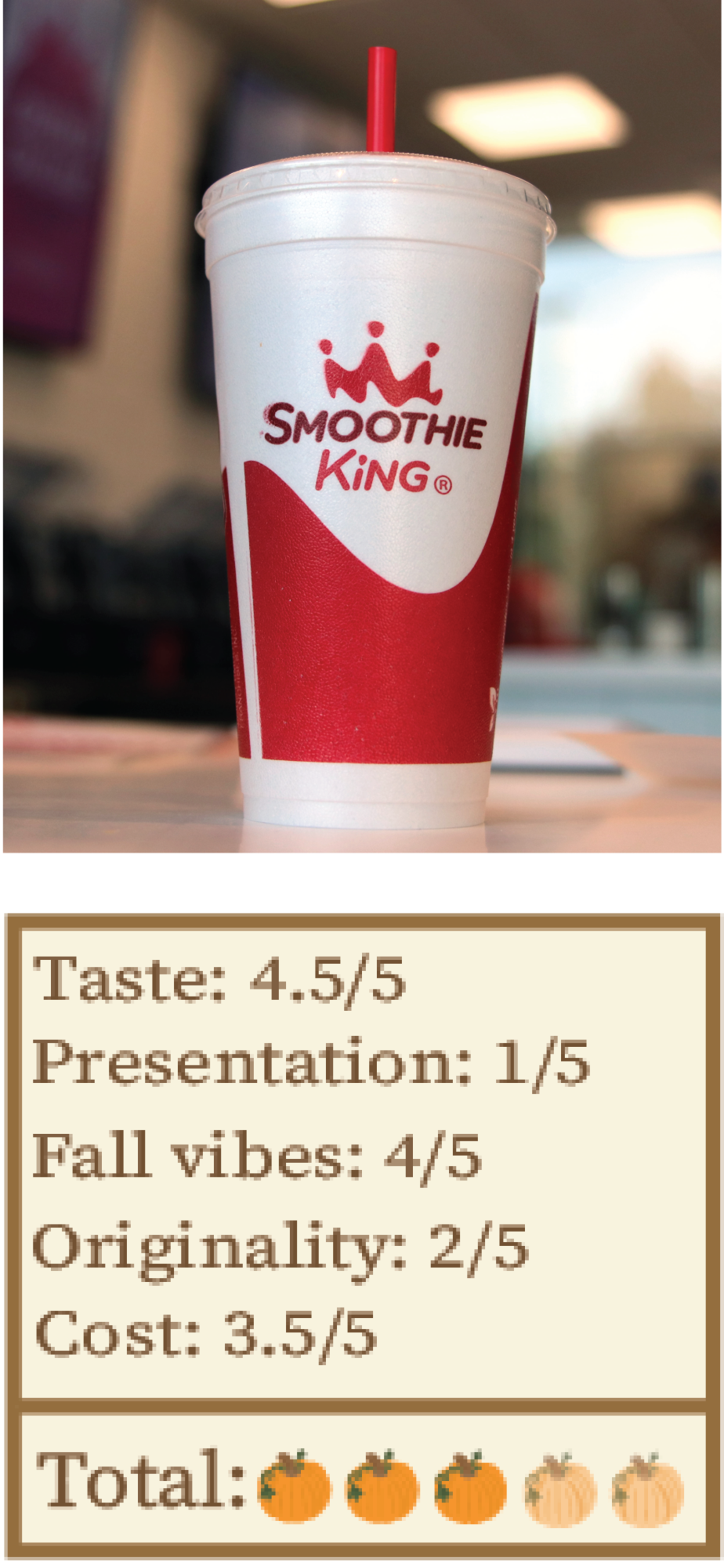 Smoothie King
Second, we traveled to Smoothie King and got their Pumpkin D-Lite smoothie. Its taste and fall vibes were above average with a complementary cost that really pulled it all together. The presentation and originality could've been better as it was just in a foam cup and was a basic pumpkin tasting drink. This led us to an average score of three.
Graphics by Avery Clement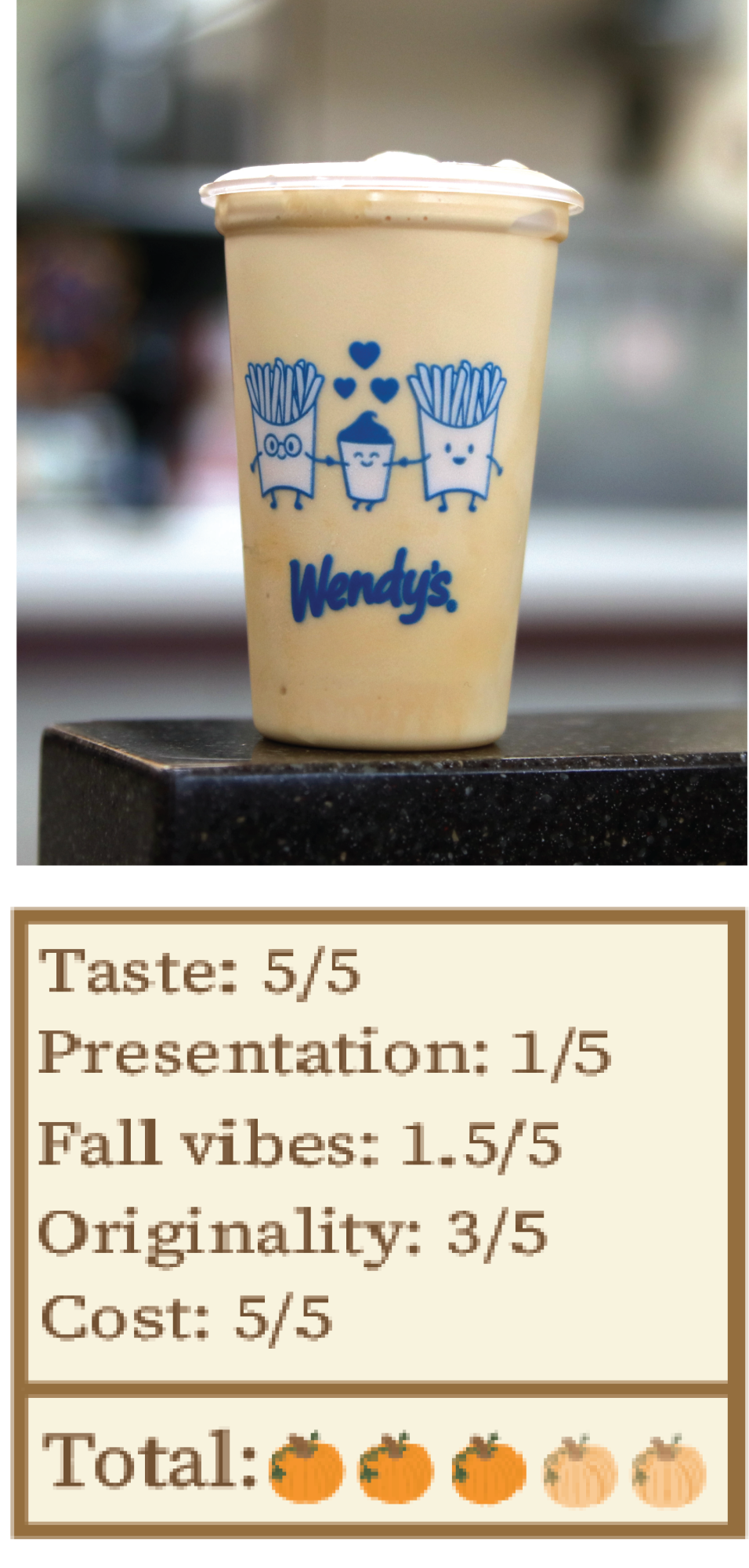 Wendy's
Third, we went to Wendy's and got their Pumpkin Frosty. We were absolutely blown away with the taste and cost, although the originality wasn't the greatest, the frosty brand really brought it's score to where it was. The fall vibes and presentation were very unfortunate; the presentation and pumpkin flavor did not shine through. The average score was a three for Wendy's as the taste was astounding, but the presentation and fall vibes really tanked the score.
Graphics by Avery Clement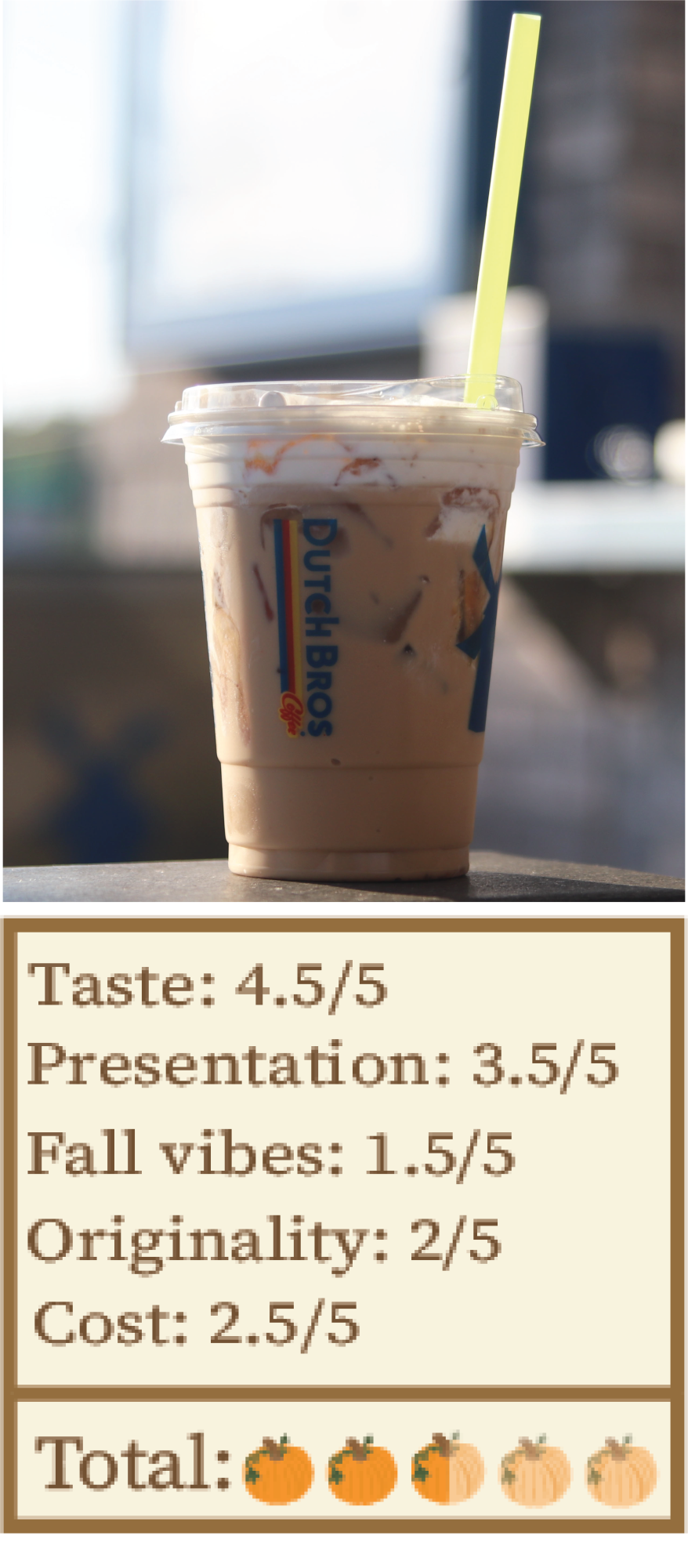 Dutch Bros Coffee
Fourth, we proceeded toDutch Bros where we got the Caramel Pumpkin Brûlée Cold Brew. The taste for this was the only outstanding part about it, with the presentation being just enough above average to give it a good sense of pumpkin spice. The cost and originality were disappointing. It was overpriced and did not follow the pumpkin spice trend we were looking for. The fall vibes were disappointing and generally focused on caramel, not pumpkin. An average score of 2.5 racks in for Dutch Bros; it was not impressive.
Graphics by Avery Clement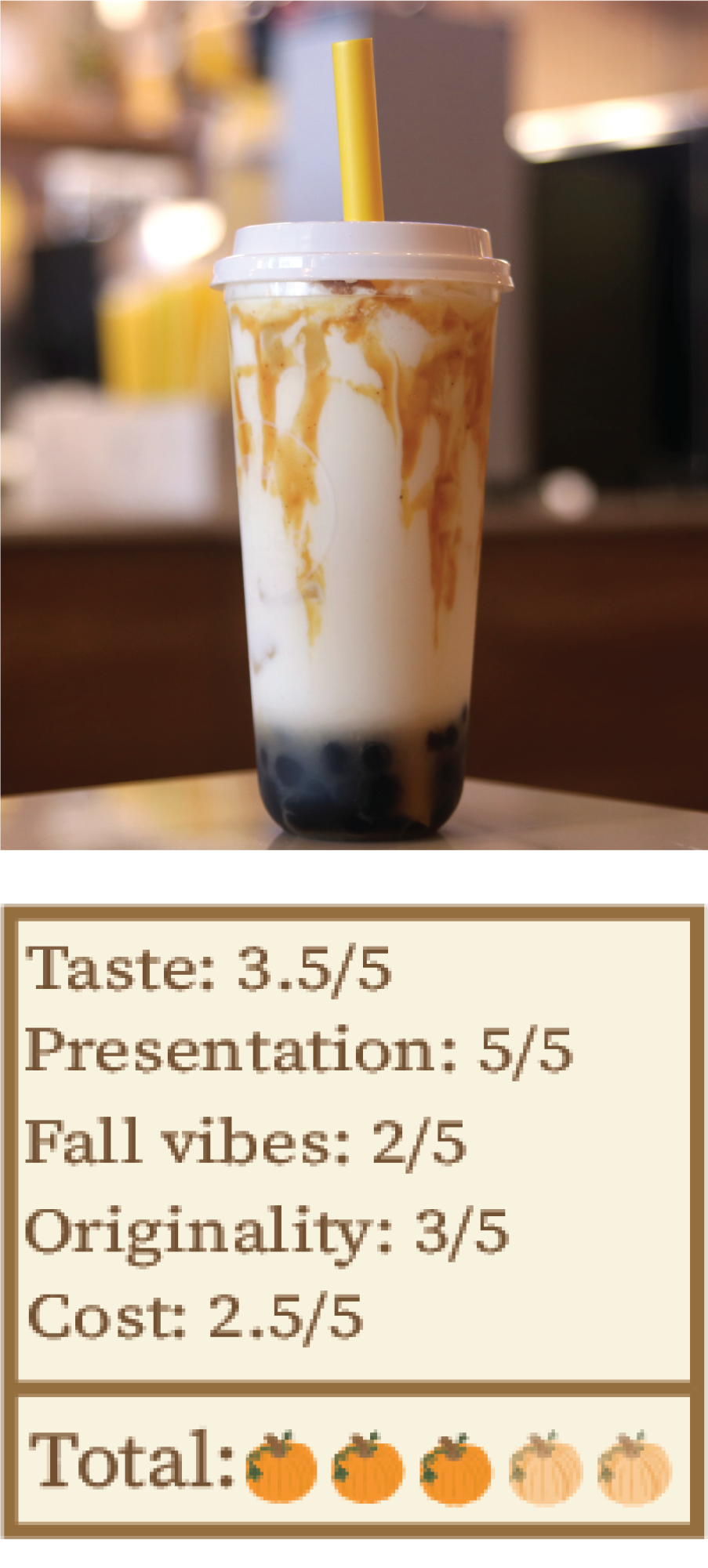 Fat Bee Drinks
Fifth, we traveled to Fat Bee Cafe and got Pumpkin Spice Boba Tea. The presentation was absolutely amazing and it was gorgeous. It nicely complemented the taste and the originality which were not outstanding, but pretty good on their own. Unfortunately, the pumpkin spice flavors were not prominent in the taste making its fall vibes score low. Also, the cost was completely not worth it leaving the rating low. The average score for this was a three.
Graphics by Avery Clement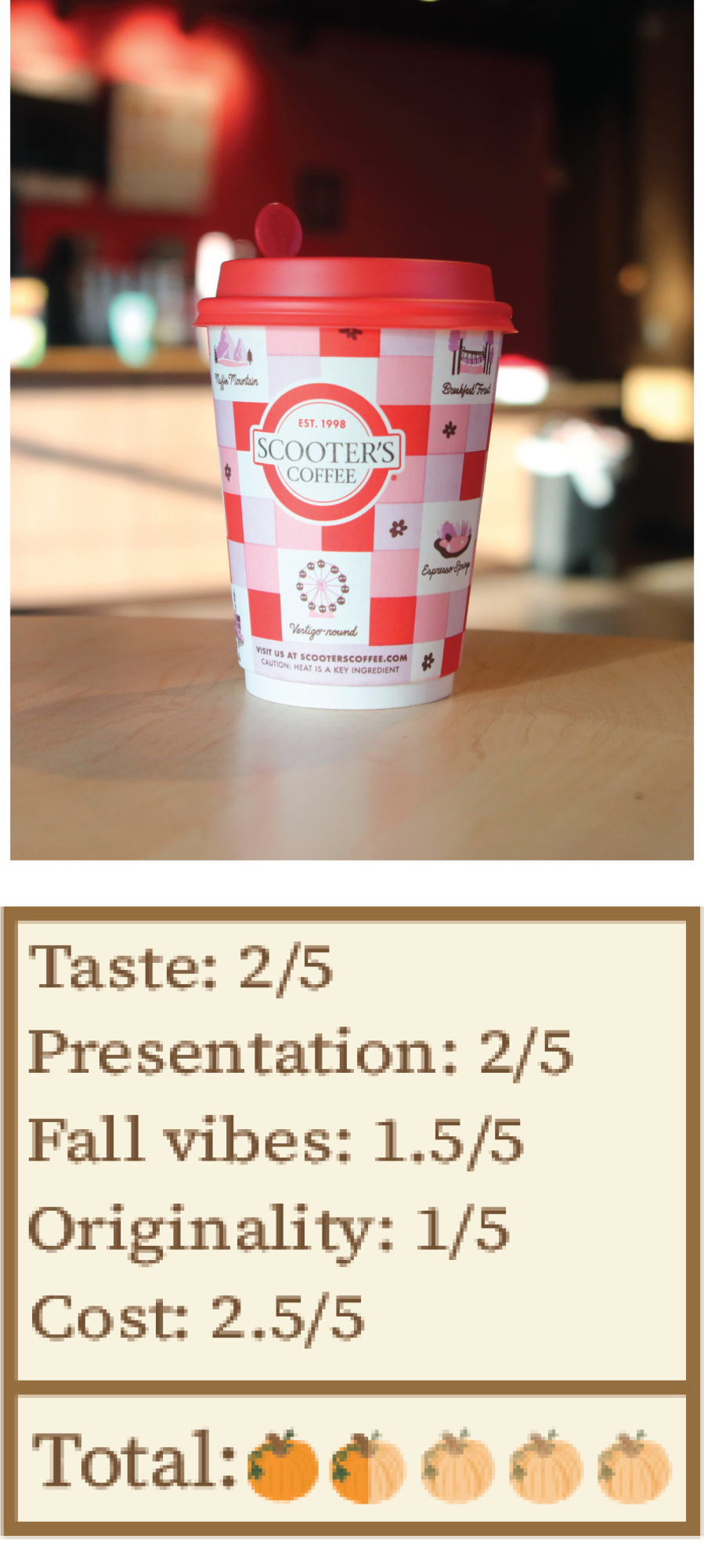 Scooters Coffee
Our sixth and last location was Scooters where we got their Pumpkin Spice Latte. The latte was not very good, and only really excelled in the cost category. The taste and presentation were below average and the fall vibes and originality were extremely low. The average score is a 1.5, with scooters being very unimpressive and simply just bad.
Graphics by Avery Clement
Segment by MVTV reporter Aubree Ermisch
(Visited 77 times, 1 visits today)