Review: Dutch Bros.
Dutch Bros. is a new drink place in Kansas City that offers a variety of drinks
Dutch Bros. Coffee is a popular drink place that originated in Grants Pass, Oregon but just recently surfaced in Kansas. They have spread across the U.S. resulting in over 500 locations in 11 states. They have much to offer other than just coffee. They also offer different drinks such as: teas, smoothies, custom sodas and more. They also offer small snacks like muffin tops and granola bars.
The location in Kansas City has a very fun, welcoming and bright atmosphere. The workers are always happy to serve you and are very helpful throughout the ordering process. Dutch Bros. has the same hours everyday, opening at 5:00 a.m. and closing at 10:00 p.m.
There is no sit-down option so you have the choice of a walk-up window or the drive thru. Since this location is fairly new and quite popular, the lines have been long but fast.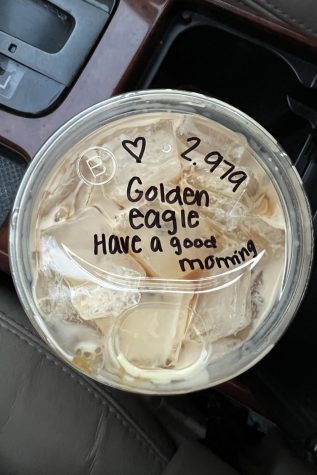 They have two lanes in the drive thru which, on a normal day, have two to four workers who take orders to move the line along faster. When arriving to Dutch Bros. the line can be intimidating, but the wait isn't too bad. The walk-up window has only one space to order and a space for pick-up. So, it can seem fairly busy depending on the weather. 
We tried a Golden Eagle Chai Tea and a Peach Ring Dutch Soda. The Golden Eagle contains vanilla syrup, caramel sauce and caramel drizzle. We would give it a rating of 9/10. The Peach Ring is a carbonated drink that has white chocolate, passion fruit and peach drizzle. We would give it a rating of 8/10.
Overall, we would rate our experience a 9/10. We definitely recommend giving Dutch Bros. a try.  Especially if you are looking for a nice refreshing drink while shopping.
Dutch Bros. is about a 15 minute drive from Mill Valley. They provide an online menu that gives many more options than their menu that's on site. The difference between Dutch Bros. and other coffee places, is that they have no inside seating and a more diverse menu. 
We would say the proportions are normal to large. They have small, medium and large, we both ordered mediums and they were able to last us a while. They have the straw less lids but still offer the option of straws to customers. 
Although it was somewhat farther than we would like, the drive was worth it. If you have not experienced Dutch Bros. yet, we highly recommend making time to drive out and enjoy the afternoon with a nice refreshing drink. 
(Visited 383 times, 1 visits today)