Review: Crumbl Cookies
Crumbl Cookies is a fun, customizable cookie shop that has just recently started drawing attention from people all over KC. The cookie shop was founded in 2017, and has opened up over seventy seven locations in the United States, four of them here in Kansas.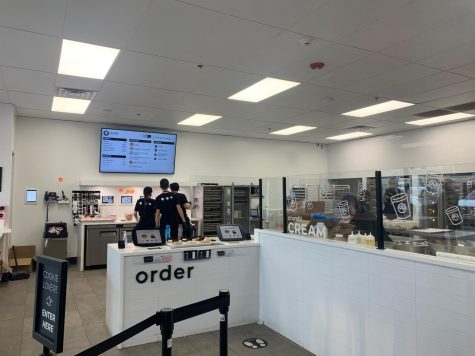 $The shop in Overland Park features a warm, modern, and simplistic environment. Crumbl is open every day of the week except Sunday, and opens its doors at 8:00 a.m. each morning and closes at 10:00 p.m. on weekdays and 12:00 a.m. on weekends. Due to a recent surge in activity, Crumbl is oftentimes crowded inside, and social distancing is not sustainable. However, the shop features a non-contact delivery and pickup option for customers not comfortable with going inside.
Inside, the shop has touch screens positioned on the walls that allow customers to place their own orders. The customer can choose from a single box of cookies, a box of four, or a box of twelve. Each cookie has its own custom design, and cookie types change weekly.
This week's available flavors are Waffle, Blueberry Crumb Cake, Chocolate Oreo, Circus Sugar Cookie, Milk Chocolate Chip, Strawberry Cheesecake, and Chilled Sugar. I purchased a box of four with the Chocolate Oreo, Circus Sugar Cookie, Chilled Sugar, and Strawberry Cheesecake. The ordering process was smooth, easy, and efficient, the wait time was short, and the staff was through making sure I liked how the cookies looked.
As for the cookies themselves, the Strawberry Cheesecake was a personal favorite. I'd rate it 9/10, the cream cheese icing was excellent, and you can really taste the strawberry, but it was a little too sweet for me. My least favorite was the Chilled Icing which I'd rate 6/10. The icing overwhelmed the cookie and the cookie itself was kind of dry, but the taste was excellent. For the other two, I'd rate the Chocolate Oreo an 8/10 and the Circus Sugar Cookie a 7/10, both very unique in their own ways and tasted amazing.
Overall, I would rate my experience as whole a 9/10. I definitely recommend giving Crumbl Cookies a try, especially if you have a sweet tooth.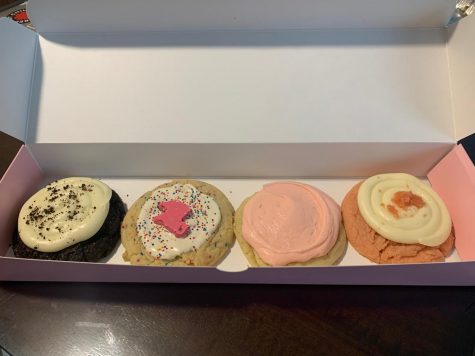 When I arrived at Crumbl Cookies, the delicious scent of fresh-baked cookies filled the air. As I entered through the doors, I saw the two tablets on the right wall where you can order your cookies. There was also a large counter where the employees were making the different kinds of cookies behind. There were about 20 people behind the counter making all sorts of cookies for the week.
There are screens on the right side of the entrance for ordering, making it easy to social distance and giving the ability to take your time on your order. The waiting area has lots of room to space out and wait for your cookies. 
Crumbl Cookies is located in Olathe and Overland Park, which is around a 20 minute drive for each location from Mill Valley. Crumbl Cookies has an online menu which has an assortment of 6 different cookies. The difference about Crumbl and other cookie places is that their menu changes weekly. 
When ordering you can order one cookie, four cookies, six cookies, and a big pack of 12. I got a box of four to be able to experience more than one favor; it was $11 for a box of four. For the menu, the cookies this week were Chilled Sugar, Milk Chocolate Chip, Pink Velvet, Lemon Gaze, Mom's Recipe, and Chocolate Cake, with Chilled Sugar and Milk Chocolate Chip always being available. I ordered Chilled Sugar, Milk Chocolate Chip, Mom's Recipe, and Chocolate Cake. After you order, they will call out your name and hand you the box of cookies you ordered. My friend and I took them to my car and enjoyed them there. 
The cookies at Crumbl are huge, they are bigger than a regular sized cookie. I tried each cookie and it was amazing. They were warm and the chocolate chips melted when taking a bite. They were all delicious, and they also stayed good for a few days.
The cookies were larger than other cookies I have had. I had a bite of each cookie and I was impressed. The cookies were warm and melting when I took a bite of each. In my opinion I think they were really good, and they were still good a few days later. The cookies did have a lot of sugar in them, which made me have a small stomach ache, but other than that I really enjoyed going to Crumbl.
Overall, Crumbl Cookies is a delicious cookie shop to get yourself a warm, soft cookie. For the price and the size of the cookies, I think it is a great place to go to if you like trying different flavors or if you would like to go try them with a friend. Although it is a bit of a drive, I enjoyed going to Crumbl and trying the new flavors of the week. 
(Visited 6,835 times, 1 visits today)