By Liz Coenen
Reveiw: Exiled Trail of Terrors
This trail is located at 12829 Loring road in Bonner Springs, KS and is a great attraction for thrill seekers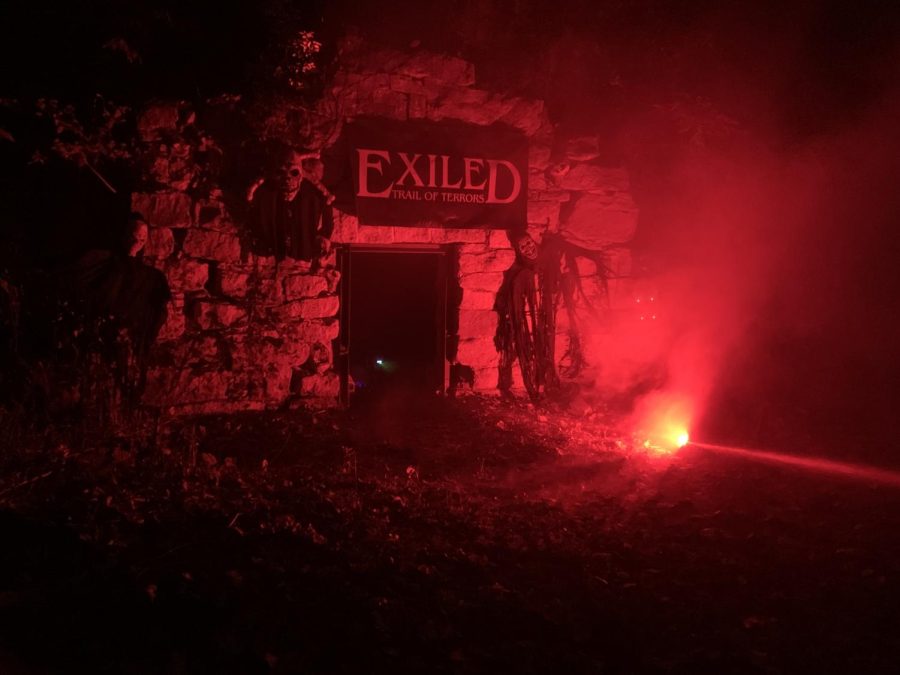 When I visited the Exiled haunted trail on Friday, Oct. 22, located at the Zip KC in Bonner Springs, I had a fun and thrilling time, experiencing the frights the trail had to offer.
The first thing that I noticed was the outrageous price of the tickets. On Fridays,  tickets are $40 per person and on Saturdays, they cost $50. It doesn't help that the tickets sell out very quickly, making it difficult to get a time slot.
While waiting in line, I was blasted by vapor from a nearby smoke machine, which made the wait almost unbearable. On the bright side, the wait wasn't too long since I had made previous reservations when I bought my ticket, but I did have a slight sore throat the next day.
Right before entering the trail, everyone is given a small, red light to help light up the uneven ground. However, my light began to die about halfway through the trail, after which  it was essentially useless.
That's not to say that the trail wasn't fun, in fact, I had a great time. Not only was it scary, but the sets throughout the hike were very well made.
This trail is definitely not for people who do not like physical activity. The hike is a little more than a mile and has plenty of steep climbs. In one portion, I even had to use a rope to climb for a short amount of time. But, I like to think that it added to the thrill of the experience.
Throughout the hike, there were lots of exciting and interesting setups I had to go through in order to get to the end. In one portion, I even had to stoop down to go through a short tunnel.
Another thing people should know is that there are a lot of flashing lights and strobe effects on the hike, so someone who is sensitive to visual effects should probably steer clear of this attraction. The use of these lights, however, did make for a very cool experience. The use of these lights were very unique and definitely added to the ambiance of the walk.
Overall, I would give the hike a 7.5 out of 10 rating. The hike was thrilling but that's not to say that it didn't have its drawbacks. In the end, I mainly thought that the price might be a little too steep for the experience but I still had plenty of fun in the end and would recommend it to those looking for a thrilling attraction.
(Visited 250 times, 1 visits today)
Mill Valley News intends for this area to be used to foster healthy, thought-provoking discussion. Comments are expected to adhere to our standards and to be respectful and constructive. As such, we do not permit the use of profanity, foul language, personal attacks, or the use of language that might be interpreted as libelous. Comments are reviewed and must be approved by a moderator to ensure that they meet these standards. Mill Valley News does not allow anonymous comments, and Mill Valley News requires a valid email address. The email address will not be displayed but will be used to confirm your comments.