Representation: How minorities see themselves reflected in society
February 14, 2020
(Visited 588 times, 1 visits today)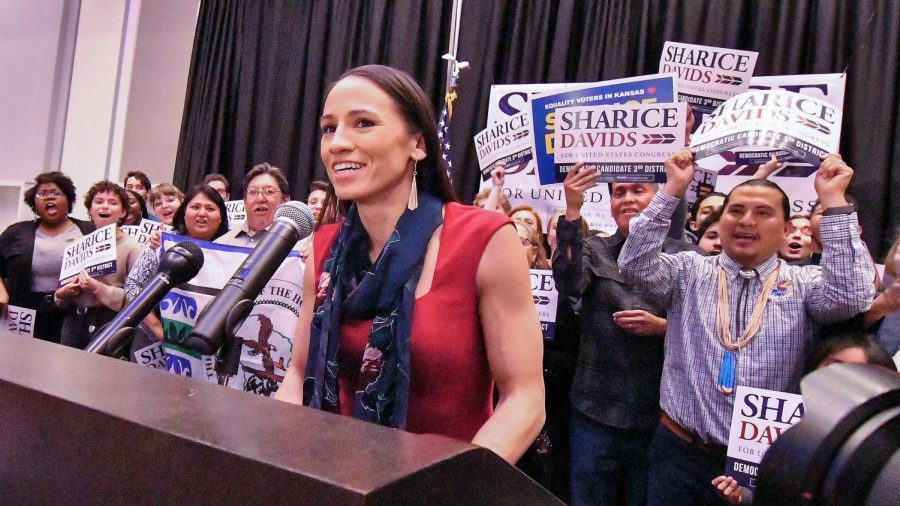 By John Sleezer/Kansas City Star/TNS
Representation in Politics
Despite recent strides, minority students and teachers feel underrepresented in politics
Imagine looking up at your community leaders, at your representatives or even looking at the president and seeing someone who doesn't look like you. Think of how discouraging that would be, and how your entire life you would see politics dominated by people who don't look like you, don't talk like you, don't think like you and don't have the same priorities as you. That is what people of color face every day. 
History teacher Aaron Cox sees the fact that elected officials in the US do not represent the country's demographics to be a major problem 
"When you look at politics … and at our demographics, there's a lot of categories that are underrepresented," Cox said. "It's no secret that most politicians are white, and they're male. I don't think it's just African Americans that are underrepresented. I think women are underrepresented and I think there's a lot of minorities that are underrepresented."
While, according to Vox, Congress is the most diverse it has ever been, it is only 22% non-white compared to 39% of the total population that is non-white. Although Kansas has also improved in terms of representation with the election of Sharice Davids, the other five congressional representatives are white, leaving the majority of the state without minority representation in congress.

In addition to Cox, junior Adam White feels that government organizations are not sufficiently representing people of color. 
"I think from both a numerical standpoint as well as a power representation standpoint, neither metric is fulfilled by the amount of representation within government for underserved minority groups," White said. "Congress and other governmental positions are dominated by white straight males and I think that is an issue, and it doesn't represent a lot of the interests of minority groups."
Senior Tripp Starr feels that the lack of diversity in the political realm discourages people of color from being involved in politics. 
"It's kind of disappointing," Starr said. "You want to see people in the light that look like you, especially in the political realm because it has some deeper meaning."
Throughout Cox's life, politics has been dominated by predominantly white males. 
"
You're not going to have a voice if you're not represented in some way."
— history teacher Aaron Cox
"I've kind of grown up in a society where that's the case," Cox said. "I think that it's kind of the norm unfortunately, and so I'm used to it, but I'd like to see that change."
While not perfect, Cox feels that Congress and other government organizations are becoming more inclusive.
"When we look at the demographics there's more diversity," Cox said. "Congress is more diverse now than it has ever been, so I think we're trending in the right direction."
While White concedes that representation in Congress has gotten better, he still feels there's a lot that needs to be improved. 
"Improved is a relative term," White said. "Since, you know, our good old days in the late 1700s, when literally everybody was a white straight male, I think it's fair to say that we've added in a couple of people of color to Congress, but we still have a lot of room to grow."
This increased representation that Cox argues for is meant to increase minorities' influence.
"They need [a] voice," Cox said. "You're not going to have a voice if you're not represented in some way. We all want to be able to have an opinion, and we all want to be able to have a voice, and you have to have that representation with people that are similar to you."

While Cox understands the importance of political representation now that he has grown up, he didn't see it as important when he was a kid.
"To be honest, growing up, I think I was like a lot of students. I was in my own box, doing my own thing I didn't understand the bigger picture," Cox said. "Now that I'm older, being able to have a bigger picture outlook, I wish I would have paid attention a little bit more."
For Starr, representation is improving but the fight for representation is still an important one.
"I feel like there could be more representation for people of color," Starr said. "I feel like that society has improved in some ways, but there's still more room for improvement."
White feels the solution to problems of representation is clear: increase voting rights for all.
"I think cracking down on issues of gerrymandering as well as reducing voter restrictions [is important]," White said. "There have been voter restriction attempts in places like Georgia and other places that make it very difficult to go to the polls for people and oftentimes is clearly benefits the white people within America in their attempt to maintain control over the government."
"
Society has improved in some ways, but there's still more room for improvement."
— senior Tripp Starr
The solution to the problem for Cox is to get the younger generations involved through government or civics classes. 
"I think we need more involvement," Cox said. "We want a younger generation to get involved, and I think that starts with education … getting kids interested in politics and teaching them how to get involved … will start to increase the diversity of the people running for public policy."
(Visited 1 times, 1 visits today)
By Al Seib/TNS
Representation in Entertainment
A graphical representation of the successes for minorities in entertainment and where there's still room for progress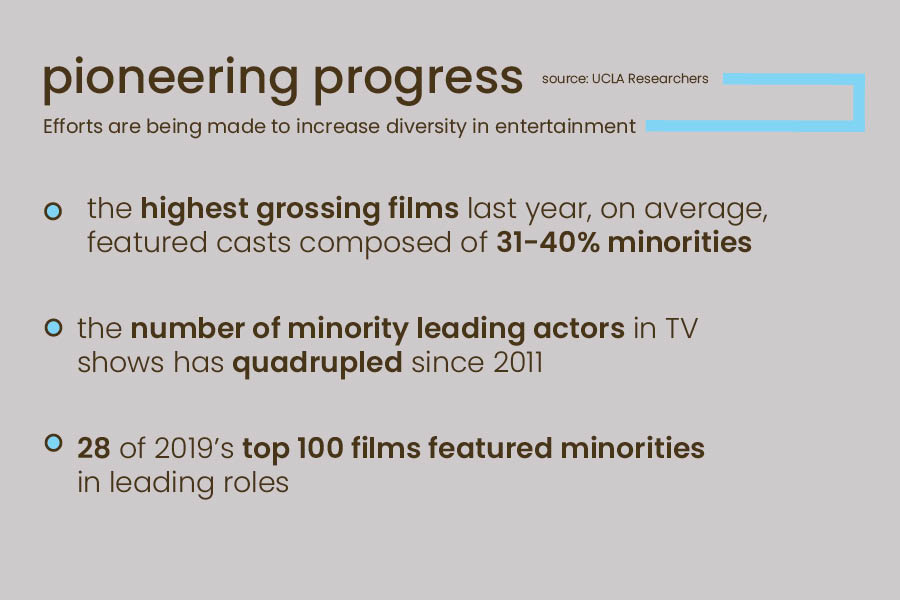 (Visited 1 times, 1 visits today)