Relay For Life returns with changes
This year's Relay For Life event will look different due to COVID-19
Like many other events this school year, the school's annual  Relay for Life has been impacted by COVID-19. The event has been altered to help make it safer for everyone, and the chair members have been actively working to make the in-person event happen. 
The chair members have been working hard to help make the event a success, according to senior Hannah Evans. 
"Relay is looking pretty different this year because, due to COVID, we will be outside," Evans said. "We are hoping to keep the event similar to the previous years. The public will hopefully be welcome for a few hours to walk around the on-site fundraisers, silent auctions, and ceremonies. At 10 p.m, there will just be team members participating in games and activities all the way to 6 a.m." 
The chair members each plan parts of the event. They organize the team captains and participants. They are also responsible for reaching out to businesses for sponsorship and they plan out the details and the logistics of the events. 
"The hardest part for making this event happen is the uncertainty we have with COVID. If weather permits, we will be in the football stadium area. Our main precaution is moving the event outside so we can have more people in a more open space. Changes may need to be made quick to be safe and since we are outside we have to be aware of weather and backup plans. Masks will be required," Evans said. "We hope to include almost everyone from previous years. Luminaria, midnight pizza party, sunrise yoga, and more. I'm looking forward to finally having the relay spirit back."
Not only trying to make this year's Relay happen, the chair members take their own precautions while planning the event, according to senior Claire Burke. 
"We've been meeting virtually and are planning a bunch of different contingency plans for the night of," Burke explains. "The major changes to relay this year are the smaller team sizes and an outdoor event. Our main plan is that the event will be on April 16 and it will be outside using the football field and other sports and outdoor facilities at mill valley."
Even with the extra planning, Claire notes that the chair members still struggle with making sure the event will happen for sure. The hope is to keep a relay similar to the previous ones with the same on-site fundraisers, silent auctions, and ceremonies. They struggle with the constant changes in plan and learn to adapt to the struggles of planning. 
"The hardest part is the uncertainty. We want to make sure that we are making this event as safe as possible, and there are a lot of elements and potential difficulties that go into planning an event right now with constantly changing guidelines and the unpredictability of the weather. But it's definitely worth it to make sure our event is as safe as possible," Burke said. "I'm looking forward to getting to see the hard work of every person who has helped with Relay come together. I'm also excited to put on an event meant for hope. Now more than ever, centering hope and community is so important, and I'm looking forward to seeing everyone come together in celebration of these things."
The event is going to be just like previous years, other than the new restrictions. There will still be teams helping to raise money for a good cause, according to senior Emma Schieber. 
"We are planning on having our event as close to normal as possible, so as of now, it will be from 6 p.m. to 6 a.m. There will be different teams set up outside and they will each have an activity for the public to partake in," Schieber said. "We are planning on having a survivor dinner, survivor walk, and a luminaria ceremony to honor survivors and current fighters. We planned our event as if everything was normal. Now that we're closer, it's looking more hopeful that we'll be able to have our event in person."
(Visited 140 times, 1 visits today)
About the Writer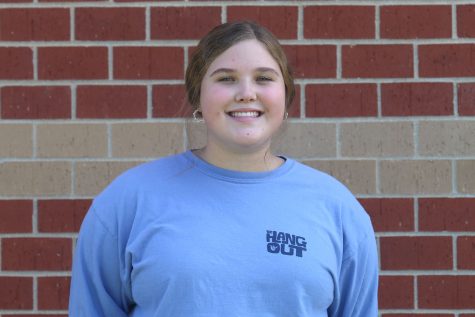 Casey Cunningham, JAG reporter/photographer
This is sophomore Casey Cunningham's first year on the JAG yearbook staff. This year she will be working as a photographer and writer. Casey is involved in Relay for Life. Outside of school, Casey can be found hanging out with friends and listening to music.