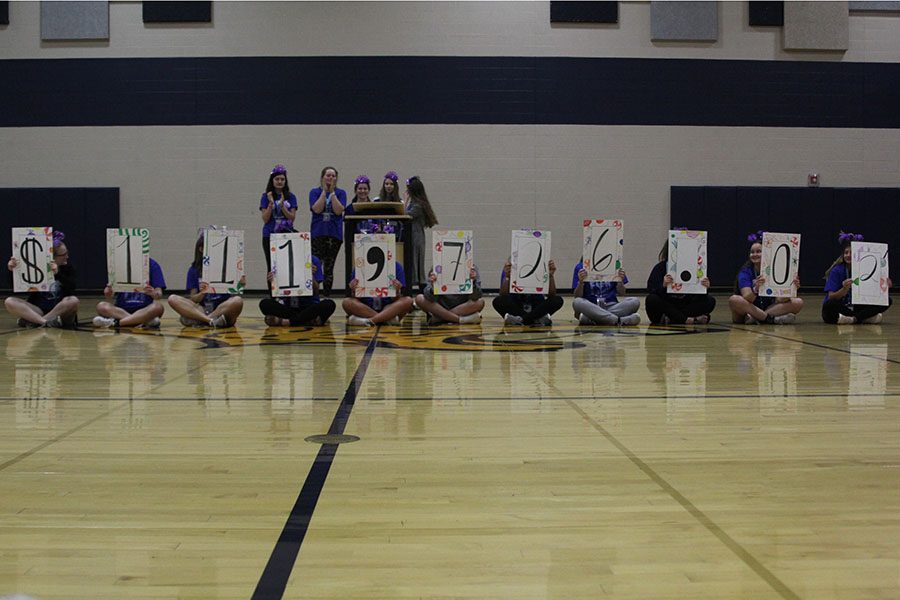 By Izzy James
Relay for Life raises over $100,000
The annual event raised $111,726.02 for pediatric cancer
Relay for Life raised $111,726.02 for pediatric cancer at the fourth annual event on Friday, March 29 through Saturday, March 30. The money consisted of money raised at Bark for Life, participant fundraisers and on-site fundraisers.
According to event chair Abby Hoepner, the initial goal was much lower than what was raised. However, early in the planning process, they realized they could exceed that goal.
"Our initial goal was to reach $80,000, but as we saw our student body raising more and more money and quickly approaching that goal, we started to hope for $100,000," Hoepner said.
Event chair Annie Myers believes that they were able to raise more money because of the extra effort given by participants.
"I think this year, fundraising-wise, participants really went above and beyond in reaching out to people they knew and asking for donations," Myers said. "So on that end, we were able to go above and beyond because of participants taking that extra step."
Hopener agrees, adding that the new trips to local elementary schools helped with the fundraising total as well.
"I think it was very successful both in terms of the fact that we were able to raise well beyond our goal but also I was personally really excited to see that our involvement with the elementary schools paid off," Hoepner said.
Overall, Myers is excited about how successful the event was.
"I would say that the event was very successful. We managed to raise as a community a lot of money for pediatric cancer research," Myers said. "That's something that I'm really proud of and something that everyone involved, whether committee members or participants, are proud of."
(Visited 62 times, 1 visits today)