Senior Staton Rebeck named for national record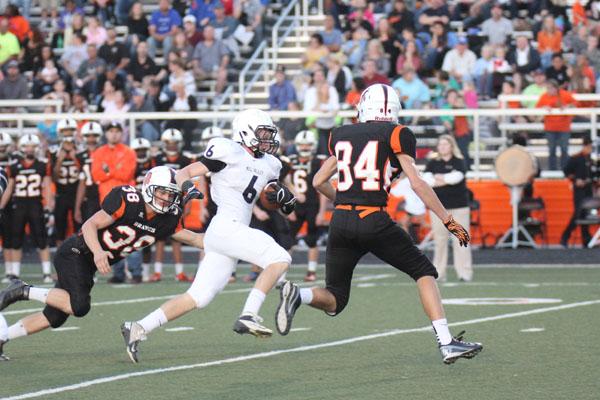 At the final game of the football season against Bishop Miege High School on Friday, Nov. 2, senior wide receiver Staton Rebeck tied the state record for most receptions in a single game.
Head coach Joel Applebee suspected that Rebeck had broken the record the Sunday after the game.
"After I looked it up, [athletic director David] Ewers and I broke down the film to make sure the numbers are right," Applebee said. "Once we checked everything, we submitted the numbers to the right people."
Rebeck completed 19 receptions and totaled 173 yards during the game. Nine of the receptions were completed during the fourth quarter. According to the National Federation of State High School Associations, this made Rebeck the third ranked in the nation for most all time receptions in a single game.
Rebeck said that he is excited to be part of sports history.
"I didn't even realize how many receptions I had that game," Rebeck said. "It's an honor to be a part of records the state keeps."
Applebee said that Rebeck was the first player of his to achieve this.
"[Rebeck] is the first I've ever coached or even been around that holds that type of record," Applebee said. "He is such a good kid and a hard worker so it was exciting to [find out]."
Rebeck finished the season with 53 receptions, 627 rushing yards and eight touchdowns.
(Visited 5 times, 1 visits today)
About the Writer
Alana Flinn, JagWire editor-in-chief
Alana Flinn is a third year staffer who is looking forward to a year full of new experiences. As editor-in-chief, Flinn hopes to finally win a Pacemaker for Mill Valley News while maintaining the quality of JagWire. She will also continue to report on her favorite sport, football. Flinn's favorite quote is: "Every person you meet, every single one, is looking for their story. There are no exceptions. You become part of it by how you treat them." -Anonymous