RealCare babies during COVID-19
Teacher Ellen Gray adjusts the RealCare baby project to accommodate the remote learning model
The RealCare baby project in teacher Ellen Gray's Human Growth and Development class is a favorite among students, and this year Gray hasn't let COVID-19 put a halt to this project.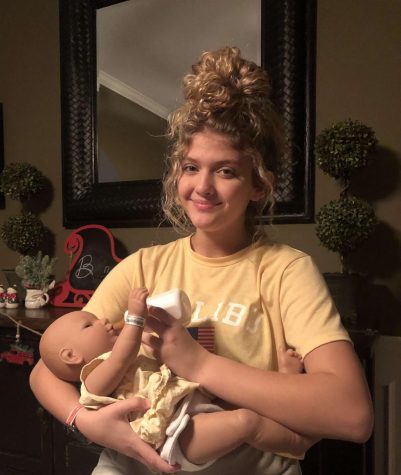 Gray listed some changes to the project specific to our current remote setup: a Google Form replaced the permission slip to sign up, students are not required to complete the extra assignments that go along with the care of the baby, and the dates and times the babies are set on became more flexible to accommodate online learning. 
Despite the new shift to a fully-remote learning environment, Gray says that the transition of this project from hybrid to fully remote was smooth.
"I already have students fully remote, so things aren't much different. Students will come to my classroom after school to pick up their baby and the baby's supplies, [such as the] car seat, clothes, bottle and diaper," Gray said.
For students who are uncomfortable with picking up their baby at school, there is an alternate assignment; in past years, the project consisted of researching of teen pregnancy, conducting an interview of a teen parent, and writing a reflection paper. This year, however, the alternate assignment has been scaled down slightly.
"I have scaled back the alternate assignment requirements this year due to the fact I knew more students would need to take advantage of the alternate project," Gray said. "I didn't want to 'punish' them with busy work just because they weren't comfortable picking up the baby from school."
Maddie Wise, whose sister did the baby project at the same time as she did, shared some struggles she faced during its duration.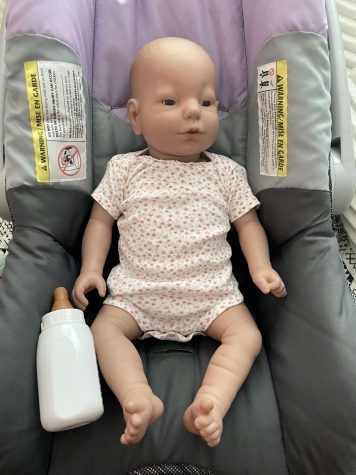 "Physically taking care of the baby [wasn't any more difficult], but getting signed up and letting Mrs. Gray know what days will be good and what hours I wanted for quiet time were difficult to figure out," Wise said.
She also found it more difficult to deal with her sister's baby's crying as well as her own, saying it was overwhelming at first, but later found some advantages to having a sister to help.
"After a while we got the hang of having two babies scream at once," Wise said. "Plus, when one baby would cry, we would help each other out so it would be less stressful."
After the project is over, according to Gray, there is a cleaning process for the babies and their supplies after a student returns them; it consists of a cleaning of the baby and washing the clothes. The car seat and diaper bag sit for about four days before the next student takes them home.
During the hybrid model, Gray was pleasantly surprised to see many of her fully remote students chose the real baby project over the alternate; however, she has seen an increase in the number of students doing the alternate project.
"I think many of the students that picked the alternate project wasn't necessarily due to the fact they were afraid to take the baby…but instead I think they just didn't want to deal with the baby," Gray said. "A good lesson in life…we aren't ready right now for a baby!"
(Visited 1,816 times, 1 visits today)