Reading provides entertainment and challenge for sophomore Madeline Myrick
Myrick avidly reads outside of school, along with what's assigned in her English class
December 8, 2015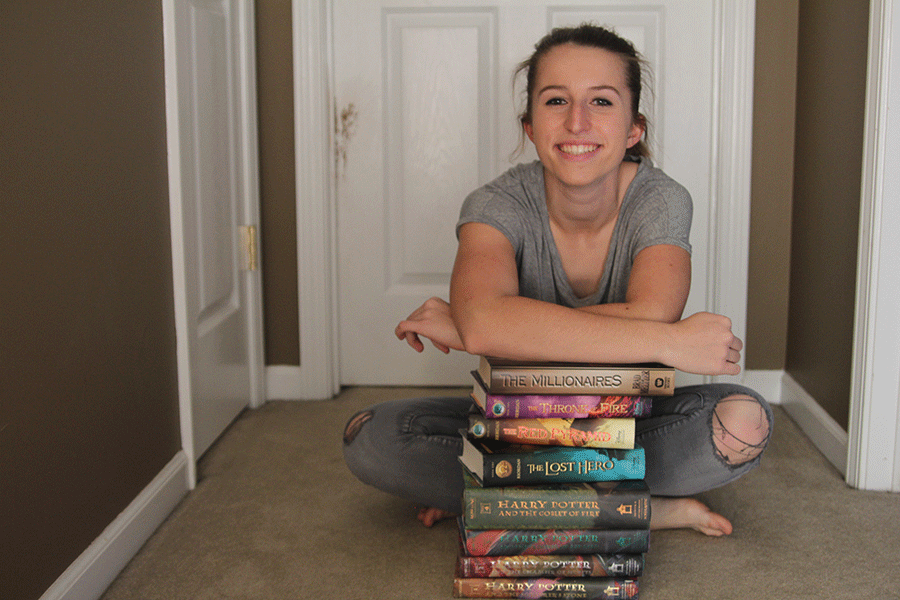 When bored, it's almost second nature to check what there is to watch on TV. Not for sophomore Madeline Myrick, though.
"I just go home, I finish my homework, and then, when I'm bored, I just start reading a book," Myrick said. "It uses your head and you can see images that you would normally see on the TV, but you can use your head instead of just seeing it."
Myrick doesn't just read every now and then, or for short amounts of time. She can finish a book in 1-1½  hours on average, she said, but there's a lot of variation.
"Sometimes, my mom has to like take [a book] out of my hand," Myrick said. "I've read once to like five in the morning because I had no sense of time."
"
I've read once to like five in the morning because I had no sense of time."
— sophomore Madeline Myrick
In addition to being a fun activity, reading also helps Myrick to find out about things she otherwise could not have experienced.
"I usually read mystery or fantasy," Myrick said. "I'm not really into like the nonfiction stuff because I know what happened, and I like learning about new stuff."
Reading isn't just about experiencing other situations vicariously, though, for Myrick. She also enjoys the thought that comes with it, to an extent.
"If you think of it more as a way to challenge your brain and a way to go somewhere else … I think it's more fun that way," Myrick said.
The challenge that comes with reading for Myrick goes beyond recreational reading — she's also a student in Pre-AP English 10. Communication arts teacher Anna Nelson appreciates the time Myrick puts into reading.
"She always has a separate book that's not just the book she's assigned to read for English out on her desk that she'll often read if she finishes her work," Nelson said. "[She] reads for fun as well as for school, which is always a challenge … so I think it's great that she still makes time to do that."
After she's read what was assigned in her English class, Myrick also regularly participates in assignments based on the reading.
"When we discuss a book, she's always one of the first to raise her hand and chime in with interesting things to say," Nelson said. "So it's not only that she reads for fun, but she's really getting something out of what she reads — basically at any level or for any purpose — and she's really willing to engage with the text, like someone who enjoys reading usually does."
While she may discuss the books avidly in class, not all of what Myrick reads for Pre-AP English proves enjoyable.
"I did not like 'A Tale of Two Cities,'" Myrick said. "I like stuff that's like easy to understand, but it's not like too easy that it's kind of like mocking me."
Some students who enjoy reading for pleasure may want to study books academically or write, but Myrick said reading will likely stay casual for her.
"It's more of a hobby than an actual goal," Myrick said. "I'm not going to read a story about dragons and use that for marine biology."
After all, reading is only a part of what Myrick does.
"I do other stuff — I text people, I play video games — I'm a normal person," Myrick said. "I just like reading more."
(Visited 14 times, 1 visits today)