Quiz Bowl secures first place in Turner tournament
Four varsity Quiz Bowl members competed against four schools and had two chairs and a bye
Tricia Drumm, Mill Valley News editor-in-chief
December 9, 2016
Playing against six other teams — four in pool and two in semi-finals — varsity Quiz Bowl took the championship at the Turner tournament on Thursday, Dec. 8.
In pool play, the team competed against Bonner Springs, Olathe South, Saint James Academy and Spring Hill, falling only to Olathe South and placing second. From there, the team members moved to semi-finals and went against Piper and De Soto, defeating both teams and placing first in the championship.
For Thursday's tournament, the varsity squad consisted of team captain senior Tom McClain and juniors Jarod Griggs, Lauryn Hurley and Sam Phipps. Despite being short a player, McClain believes the team still thrived.
"[A part of the success this meet was] people stepping up [to answer questions] because you don't typically expect some of those people to come in and score points, but we bring them to the meet, they fit into the system and they score points," McClain said. "It's just really good that we worked as a team and got points even though we were shorthanded."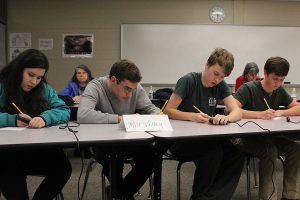 As for receiving first at the tournament, coach Mary Beth Mattingly wasn't surprised by the team's victory.
"It's all dependent upon what teams you go up against, so you don't know the strengths of different teams," Mattingly said. "I figured they would do well."
Even though McClain was satisfied with the outcome of the tournament, he felt that there could be room for improvement in the team's performance.
"We just weren't aggressive enough against Olathe South," McClain said. "We would just go out there, and we know the answers, but they're just faster on the buzzer and they execute it better than us. … I just felt like we didn't convert as many points as we usually do."
Above all, Mattingly praises the team's success from its compatibility between players.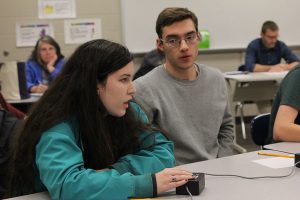 "I just think, overall, they're willing to practice; no-one wants to outshine anybody else," Mattingly said. "They're very good at looking to each other and recognizing what each person can contribute so one person can't outshine the other person, and that makes for a good-looking team. That's where success is."
(Visited 100 times, 1 visits today)