Quiz Bowl goes 5-1 at the Tonganoxie Invitational
The team was one win away from breaking into the finals at their first tournament of the season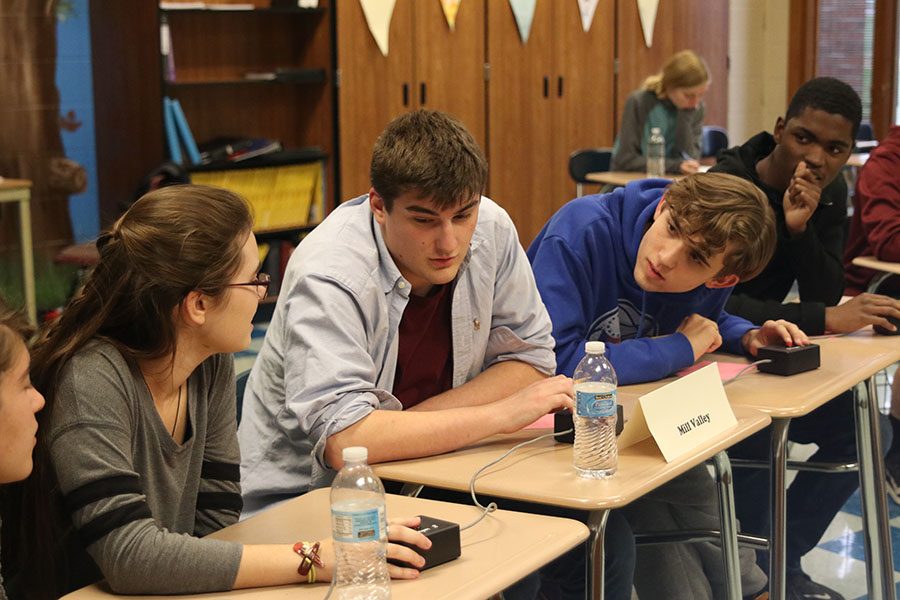 The Quiz Bowl team competed against 28 other schools at their first tournament of the season hosted by Tonganoxie Thursday, Oct. 24. The team finished with a record of 5-1 and a total score of 400 points. Despite their winning record, the team's loss to the undefeated Washburn Rural ended their chances of making it to finals.
Despite going 5-1, Quiz Bowl doesn't make it to finals:
– Round 1: Won Aquinas 90-40
– Round 2: Won Eudora 60-10
– Round 3: Bye round
– Round 4: Won Lansing 70-20
– Round 5: Lost to Washburn Rural 60-30
– Round 6: Won Bishop Ward 90-0
– Round 7: Chair round (score 60-0)

— Mill Valley News (@millvalleynews) October 24, 2019
Considering that it was the team's first tournament, team captain Noah Hookstra believes the team showed promising results.
"I think we did pretty well for our first tournament, but I think there's a lot of room to grow," Hookstra said.
Senior Eva Burke thinks that everyone on the team had their own strength and it benefited the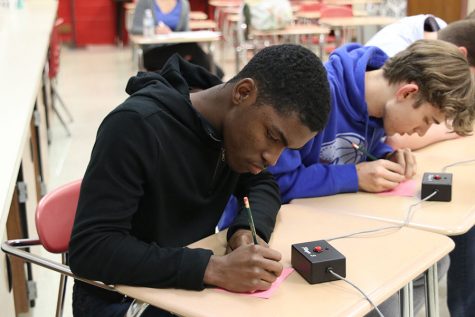 team as a whole. In addition, she believes that the team's bond helped ease everyone.
"The team worked really well together. We had a good mix of people, with experts on every topic, and we all had a lot of fun too," Burke said. "We helped and supported each other and created a friendly, easy-going atmosphere that made it easier to relax and concentrate during the rounds." 
Though the team had a winning record, Burke believes that the team lost the chance of getting into the finals because they became overconfident after easily winning the first three rounds by a margin of 50 points each.
"The reason we lost [to Washburn Rural] was that we grew complacent when we faced teams we beat more easily," Burke said. "In the future, we'll know to stay on our game."
Even though the team didn't make it to the finals, Hookstra thinks that the results will help them move forward.
"I think we continue to go and go big, and I think that will be able to succeed this year," Hookstra said. "Overall, we have a lot of new people, which means that there's a lot to learn, but also means that there's a lot of potential, and I think this is tournament is a great example."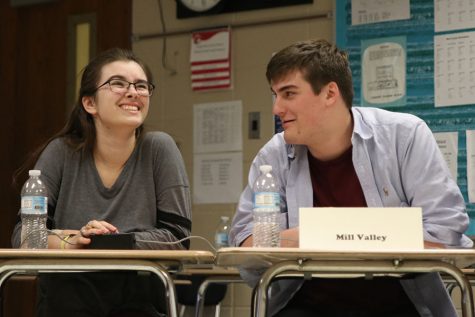 Looking ahead to this season, Hookstra hopes that the team can create an environment that is not only successful but also welcoming.
"Our goal is to really build a legacy. We only had a couple returning members and now we have a lot [of new members], so we want to create an environment where we're successful at tournaments," Hookstra said. "We also want people to feel like they want to return to the team next year and return to the practices and keep competing."
The team will be headed to their second tournament at Saint James Academy Tuesday, Oct. 29.
(Visited 212 times, 1 visits today)
About the Contributor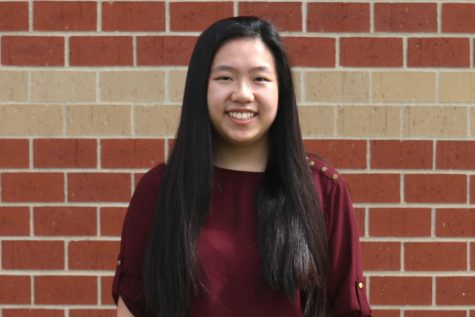 Hannah Chern, JagWire editor-in-chief
This year is senior Hannah Chern's third year as part of the JagWire newspaper staff and second year as one of the editors-in-chief. In addition to leading and working on the JagWire, Hannah serves as an NHS officer and participates in Science Olympiad where she expresses her love for science. Outside of school, Hannah finds herself spending her free time endeavoring the world of crochet, watching YouTube tutorial videos, reading books and discovering...