Q&A with new athletic director Brent Bechard
Bechard, currently at Holton High School, will take over for outgoing athletic director Jerald VanRheen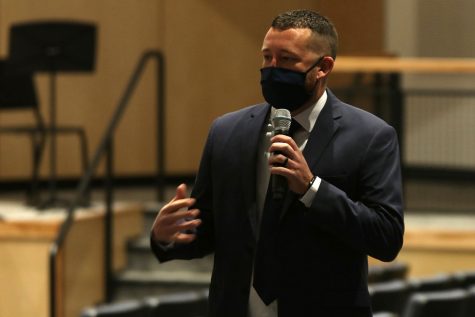 Mill Valley News: What is your current job at Holton High School, and your other teaching experience?
Brent Bechard: Currently I am the Assistant Principal at Holton High School, and Athletic Director at both Holton High School and Holton Middle School. I taught PE for six years in Olathe at Rolling Ridge Elementary. During that time I also coached basketball at Olathe East High School.
MVN: Why did you pursue this job at Mill Valley?
BB: Mill Valley has a reputation around the state as one of the top, if not the top school in the state. Not only for their academics, but athletics and activities as well. It is rare to have the sense of community like Mill Valley has been in the KC Metro area. Having a school with great teachers, coaches, students, and facilities that is supported by the community is a dream job for any educator. 
MVN: How will working at Mill Valley be different than working at Holton High School?
BB: Mill Valley offers more athletic programs than Holton. Currently Holton doesn't offer bowling, soccer, swimming, or tennis. The combination of those new programs and number of students at Mill Valley compared to Holton will be the main difference. 
MVN: What are you most excited about for this new job?
BB: I am most excited about being able to make an impact on a greater number of students and staff. I have had the chance to meet most of the head coaches, and they have all made me feel right at home. I am very excited to work with all the coaches, and get to know the students.
MVN: What will be some challenges to this new job?
BB: Change is hard for anyone, but I believe the biggest adjustment will be going from 320 students to around 1,300 students. I know every student's name here at Holton, so learning names and adjusting to the number of students will be a challenge. Also, getting familiar with the new athletic programs will be a learning experience for me, but I am excited for these challenges.
(Visited 496 times, 1 visits today)