Pursuing hobbies and skills
October 22, 2020
The stay-at-home order burdened many students with social isolation and anxiety about the disease, but many were able to find consolation in discovering new hobbies.
During the beginning of the stay-at-home order, Kaur found herself scrolling through Tik Tok endlessly. Through Tik Tok, Kaur explored the realm of painting, whether it was tips about "what type of brushes to use" for strokes or what materials to use. Additionally, Kaur would refer to Pinterest to find inspiration for her paintings, such as space-themed pieces.
While painting has become a fun new hobby, Kaur believes that it is also been a way to help her relax.
"It was nice to do it without being rushed or without being like 'Oh, after I do this, I have to do my project or something like that,'" Kaur said.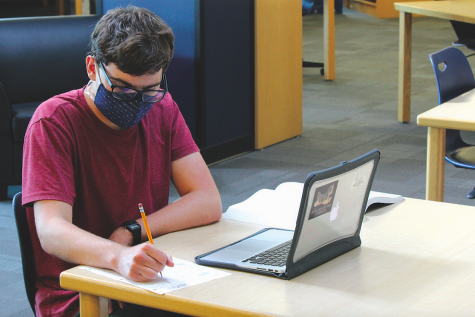 Similarly, for junior Hadley Rupe, the lockdown was an opportunity to finally tap into her creative side – making jewelry and sewing.
"[My rings] are pokey, but I made them, and I'm glad that I learned how to do something," Rupe said. "Nobody else will have [the jewelry I make], which is also something cool."
Alternatively, senior Zachary Botkin pursued a less conventional hobby: studying mathematics.
"I took a differential equations class," Botkin said. "I took an online course through edX, and I was taught by Professor Matic at MIT, and I did video lectures with differential equations and tests."
As for Coup, she now considers herself an avid cooker after spending months learning to make different dishes.
"Before [the lockdown], I was the worst cook ever," Coup said. "I started with making spaghetti. It was not the best the first time, but then I actually became really good at it. I make desserts every week now for my family, like homemade oatmeal chocolate chip cookies."
In addition to her culinary adventures, Coup also discovered that she enjoys tennis. One day, her boyfriend's family convinced her to play a game even though she had never picked up a racket before.
"For some reason, I was naturally actually good at it. Then, I played every single day because I became obsessed with it. They told me, 'You're really good at tennis' and 'You should talk to the team; you're athletic enough to make the team,'" Coup said. "So, I tried out for the team, and I actually made it."
(Visited 1 times, 1 visits today)