Prom committee is in the midst of prom planning season
A small group of students and teachers are figuring out decorations, venues, and so much more for prom
A small committee of around five students and two teachers are in charge of making prom a reality. They have many responsibilities for planning prom and are currently working through decoration and invitation ideas. Prom will be held Saturday, April 1 at the Ball Event Center in Olathe.
Prom committee leader social studies teacher Angie DalBello explains what else the committee is responsible for.
"We have to book a venue. That's probably first and foremost," DalBello said. "We usually do that one to two years ahead of time, obviously [set] a date, which is also more challenging than you would think because in the spring there are spring sports and other school activities."
Junior Addisyn White, who is on the prom committee, talks about how the group came up with this year's prom theme.
"Our theme for prom this year is Garden of Glamour. We first start- ed out by just brainstorming some ideas, we had some prom books and the members of the committee asked their friends for any ideas," White said. "We then, over the course of a few weeks, narrowed down our selection. In the end, we had two contenders but we decided on this theme because it combined the two."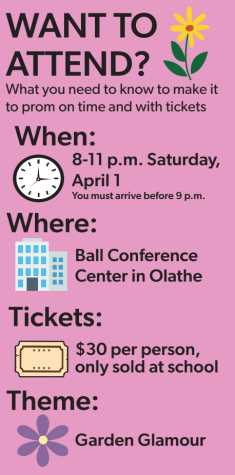 Since booking the venue is a task that needs to be completed years ahead of time, trying to find a quality building that can accommodate everyone is a challenge for DalBello.
"Surprisingly, there's not a lot of options [for venues] in Kansas City because when you think about it, you have to have a place that can accommodate 550 to 600 kids," DalBello said. "When you think about places you've been to for weddings you think oh yeah, that's a big place, but it probably can only hold like 200 or 250."
White was very eager to join the prom committee at the beginning of this year because for her it is satisfying to plan something and see it come to fruition.
"I decided to join the prom committee because I wanted to help make prom the best it can be," White said. "I wanted to be involved in the decisions that are made into a reality."
DalBello admits she was skeptical at first about coordinating prom when her co-worker asked her to help lead the committee years ago, but she is glad that she took the opportunity.
"I've been doing this [for] eight years maybe longer," DalBello said. "and then it turns out I love it."
(Visited 156 times, 1 visits today)