ProjectLIT hosts joint book club with middle school
Outreach to Monticello Trails designed to bring passion for books to young students
Mill Valley book club ProjectLIT, formed this year under new librarian and club sponsor Ashley Bennett, has already expanded and planned an outreach program for Monticello Trails Middle School. 
ProjectLIT member junior Kayla Brethauer has expressed excitement about the new program.
"We are planning an outreach [program] with MTMS and are really excited about it," Brethauer said.Our club really wanted to do something different this spring so as a group we thought it would be fun to offer our book club to students at MTMS." 
The book the club is currently planning on reading them a novel by Peter Brown called, "The Wild Robot."
"'The Wild Robot' is a middle-grade book about a robot that is stranded on an island," Brethauer said. "We don't usually read middle-grade books, but we wanted to read something geared more towards middle schoolers."
Excited about the possibilities a joint book club will bring students, Bennett said that the club members are passionate about the world of literature and want to bring it to others.
"The idea of reading for enjoyment and talking about books with other students is something we are passionate about, so we are looking forward to being able to share that with the students at MT," Bennett said. "Our plan includes a few Zoom visits while we are reading the book to discuss the events of the book with the students. We will also lead some book related activities with those students all developed and led by our ProjectLIT group members."
Much like Bennett, junior vice president Grace Emerson shares her same sentiments about the ability for club members to broaden younger students' outlooks on literature. .
"It is an outreach opportunity for us to connect with other, younger students who enjoy reading as much as we do," Emerson said. "We'll have outside meetings after school for those in person, but we'll also have online remote students on Zoom. The meetings will start in mid-April, and will include coronavirus-safe snacks and activities that go along with the reading." 
Despite COVID-19, the club aims to pursue sharing their love of literature through not only MTMS but also through a much larger scale.
"A lot of people don't realize that our book club is actually a chapter of a national literacy movement whose goal is to promote literature and diversity," Emerson said. "This is my first year as an officer, and also the first year the club started. It's rewarding because it allows me to help lead the group meeting and plan our activities, but also participate in discussion as a normal club member. It's been a great leadership opportunity for me."
(Visited 64 times, 1 visits today)
About the Writer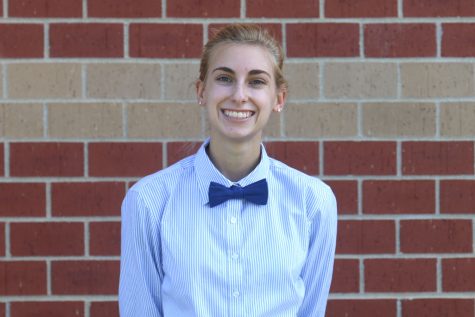 Ellie Basgall, JAG reporter/photographer
This is junior Ellie Basgall's first year on the JAG yearbook staff. She will be undertaking the position of writer this year. When she is not typing away, she can be found marching with the band out on the football field, playing the flute in the band room or serving as a student ambassador. Outside of school, she enjoys creative writing, reading and playing the violin in her church's youth symphony orchestra.