Principal Tobie Waldeck reflects on his decade as school principal
Just the school's second principal in 20 years, Waldeck fondly remembers his time at Mill Valley
Ben Wieland, Mill Valley News editor-in-chief
May 25, 2020
For retiring principal Tobie Waldeck, whose ten years as the school's principal will come to an end this summer, managing a pandemic has just been the latest challenge in a job that he says "nothing fully prepares you for." 
The unprecedented event, which required school buildings to shut down for the year's final nine weeks, added chaos to what Waldeck expected to be a farewell year. 
Waldeck believes that instead of feeling sorry for himself, he should recognize his privilege compared to those affected directly by the virus and continue to do his job. 
"I ran around here a little bit, just feeling sorry for myself. I did want my last year to be as normal as possible," Waldeck said. "Still, rather than feeling sorry for myself, I put it in perspective and understand that there are people that are dealing with a lot more than me. I'm still blessed to be working in Mill Valley."
Waldeck also adds that one group of students at Mill Valley has experienced the most upheaval as a result of the pandemic — the school's graduating seniors. 
"Our seniors have had a hard road with regard to graduation," Waldeck said. "I know they understand what's most important, but it's been hard on them."
"
You can't find a job that's fun all the time. That's not the way life works. For me, though, it's been very rewarding."
— principal Tobie Waldeck
While it's made the end of Waldeck's final year more hectic than he expected, the pandemic hasn't completely prevented him from being able to reflect on his three-decade career in education and reminisce about his favorite memories. To him, one stands out in particular as his best experience as principal: the football state championship in 2015, which handed the school its first athletic state championship in its 15 years. 
"That was a magical time, and that magic is still here," Waldeck said. "That [is my favorite memory] without question, because everybody in all sports worked hard to try to get that first title, and when it did finally come it was amazing."
Waldeck's fondness for school sports comes from a long history with them — at the beginning of his career, while he was still a math teacher at De Soto, he coached football, baseball and wrestling. 
In fact, coaching isn't the only thing Waldeck misses about being a teacher. 
"I miss the daily constant contact with students that are learning from me directly," Waldeck said. "That was a lot of fun."
It's been two decades since Waldeck last worked as a teacher — before his ten years as principal at Mill Valley, he spent four years as an assistant principal at Monticello Trails and then six years as principal of Monticello Trails. 
During his time as an administrator, Waldeck developed a reputation for cracking down harshly and honestly on students who broke the rules. He says that, looking back on his legacy as an administrator, that'd be the one thing he would want to change. 
"In hindsight, I would probably still have high expectations, and I would expect people to behave appropriately, but I probably would be less blunt," Waldeck said. "I would still want to be direct — if I have an issue with you, I'm going to tell you — but maybe I'd be a little bit less blunt." 
In contrast with his admittedly confrontational attitude towards rule-breakers, Waldeck also became known for his ability to lighten the mood around both students and faculty.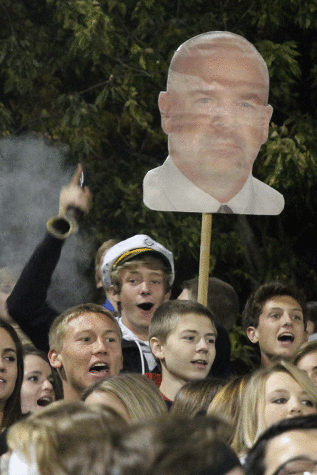 Some of his most well-known jokes, like his tendency to tell students he saw in the halls "good morning" no matter what time of day it was, became staples of the school's culture. While having fun with students and staff was just a small part of Waldeck's daily routine, it's something he thinks he'll miss in his retirement. 
"I like to joke around more than people realize, and the teachers, counselors and all of the staff have had a lot of fun with it. I will miss that," Waldeck said. "Mostly, I will miss joking around with students — all the silly things that I do to just get a reaction, like saying good morning when it's afternoon. They just look at you like you're crazy, but I will miss all of that kind of contact and joking around with students."
Perhaps Waldeck's biggest takeaway from twenty years in administration, though, was the revelation that his job is one that's impossible to do alone. According to Waldeck, there are so many moving parts and scenarios that his training and education never could've prepared him for , and — referencing the ongoing pandemic as an example — he's had to rely on help, advice and support from the people surrounding him. 
Waldeck credits former principal Joe Novak, the district's superintendents and his students with helping him improve at his job. He saves his biggest praise and thanks, though, for the teachers he's worked alongside during his time at Mill Valley. 
"The people that have impacted me the most are, overall, the teachers… When you jump into administration, you may think you know everything you need to know, but you don't. You end up learning from teachers. The teachers actually molded me into the principal I am today," Waldeck said. "I'm a different principal now than I was 10 years ago, because teachers helped me along the way. They helped me see my mistakes, and they helped me correct those mistakes over time."
Looking back on his thirty-one years in education and decade as principal at Mill Valley, Waldeck is ultimately satisfied with the job he's done and the experiences he's had. 
"You can't find a job that's fun all the time. That's not the way life works. For me, though, it's been very rewarding," Waldeck said. "It's been hard, but very rewarding."
(Visited 478 times, 1 visits today)