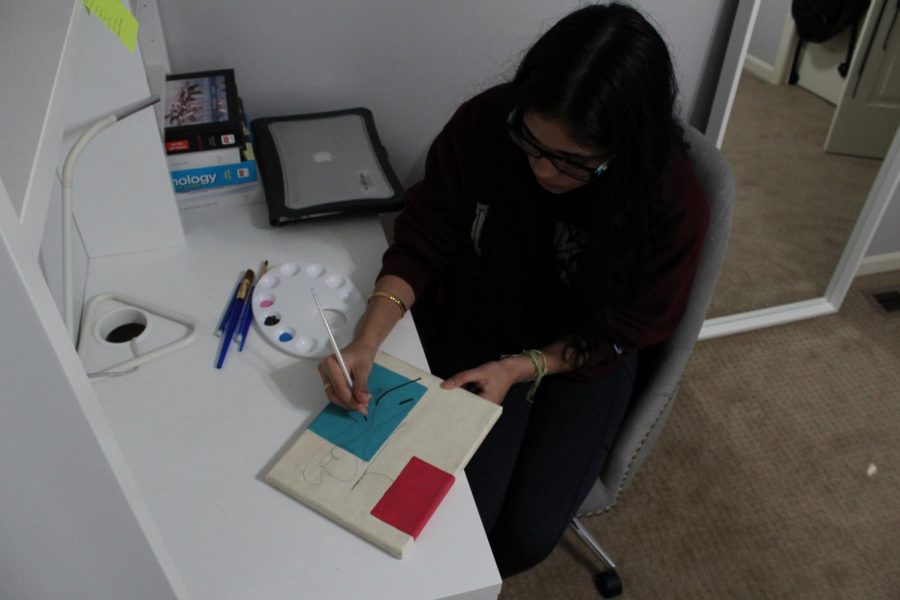 By Evan Sherman
Practicing self-care
October 22, 2020
Some have spent their time deepening bonds with family, others have explored new hobbies – but for many, the extra free time has allowed them to prioritize their self-care. Without the pressures of school or extracurricular activities, students have been able to focus on themselves.
For Kaur, if she wasn't baking or painting, the majority of her free time was spent relaxing. 
"I thought it was nice not having to worry about anything. It was nice to lay in my bed and do nothing," Kaur said. "I think people have been narrated as lazy, but I think self-care comes in many different forms; it isn't always facemasks or taking a nice bath. I just think everyone got to chill for a bite."
In addition to her newfound passion for tennis, Coup had discovered a new side of herself: her fondness for cleaning.
"The kitchen would be a mess, and I would clean it up. I'd also make my beds in the mornings," Coup said. "I would do all these things that were unlike me. I became a different version of myself, which was good."
As for Weber, he has been able to spend more time enjoying the outdoors.
"I feel like I've spent more time outside in nature," Weber said. "Usually when I'm bored, I'll either take my dog on a walk or lay in our hammock in our backyard and relax."
Even though COVID-19 has forced people to stay at home for months, Kaur believes that the time spent in lockdown has allowed her to spend time doing things she wanted. 
"I think it was a nice mental break that everyone needed," Kaur said. "It was nice to stay at home, and I think a lot of people got into new hobbies, and people explored their creative side. I probably would have never tried any of these things until I was locked in my house with nowhere to go."
(Visited 1 times, 1 visits today)