Political Discussion club provides students outlet to explore different opinions
Students gather during seminar on Wednesdays to discuss political topics
Tricia Drumm, Mill Valley News editor-in-chief
October 6, 2016
In social studies teacher Chris Dunback's room during seminar on Wednesday, Oct. 5, senior Jack Campbell leans against a wooden podium while senior Ethan Hansen sits beside him, plastic gavel in hand. A group of nearly 20 students sit in front of Campbell and Hansen, ready to share their opinions on an article about racial relations.
Meeting every Wednesday, Political Discussion club offers students of all grades the opportunity to openly discuss their political views and learn more about viewpoints opposing their own.
"We moved the name from 'Political Debate club' to 'Political Discussion club' because debating doesn't really get anywhere for us," said Hansen, the club leader alongside Campbell and senior Tom McClain. "Our goal is to be able to discuss these topics so people can have a better idea on what's going on around them."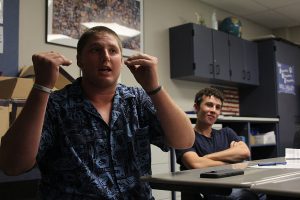 Along with racial relations, students briefly touched on political subjects such as poverty, welfare and the "black lives matter" versus "all lives matter" movements. In a previous meeting, members considered the recent presidential debate between presidential candidates Hillary Clinton and Donald Trump. Next week, according to Hansen, the club will discuss the debate between vice presidential candidates.
Junior Jameson Isaacsen, a member of the club, sees Political Discussion as a place he can "express [his] own opinions in a way where they can be argued against and also supported."
Isaacsen chooses to attend the Political Discussion meetings as a way to increase his knowledge of politics in general.
"[I want a] deeper understanding of our political system and the views of the people that go to our school," Isaacsen said. "I understand how it works and how the system is currently running, but I also want to know more about the past and what we can take from that in order to help us today."
Last year, according to Hansen, the club was unstructured and fell apart by second semester when attendance became dangerously low. Hansen hopes this year's club can have more structure and wants the information shared in the conversations to be as correct as possible.
"One of the main points would be fact-checking during our discussions because everyone's throwing out facts or statistics and we're all conversing," Hansen said. "It's so fast-paced that sometimes we don't really the knowledge of if that's a true statement or if it was just something that was thrown out there."
In the end, the main goal of Political Discussion is to give students an opportunity to see both sides of an opinion, according to Hansen.
"A lot of times, especially in Johnson County, you'll have political beliefs that you haven't talked to anyone about, and it may be what your parents believe or just something you've come up with on your own," Hansen said. "There's not really a lot of moments where you can try your opinions against someone else's, and I feel like that's really the best way to grow."
(Visited 139 times, 1 visits today)