Piece of Cake: Berry easy pavlovas
I've been a Pinterest junkie for a while now, and the large amount of recipes on there hasn't helped my addiction. This variation of pavlovas I found on Pinterest a few months back really caught my attention with its simplicity and elegance. Now, I'd never had pavlovas before, or actually known what they were called for that matter, but I'd seen them at different restaurants and on other food blogs and thought they were absolutely gorgeous. Of course, traditional pavlovas are served with whipped cream and fresh berries, but who really likes to go by the rules?
There's not really much I can actually say about this recipe besides the fact that it's extremely easy but takes a lot of patience.
Now, without further ado, berry pavlovas.
Berry Pavlovas
Start to finish: 1 hour 30 minutes
Servings: 10-12 cookies
Here's what you'll need:
6 egg whites
1 teaspoon cream of tartar
A pinch of salt
1 ¼ cups sugar
⅛ teaspoon almond extract (optional)
1 cup berries (I used blackberries, blueberries and strawberries)
¼ cup sugar
¼ cup light corn syrup
1-2 teaspoons lemon juice
Zest of one lemon
Here's the fun part: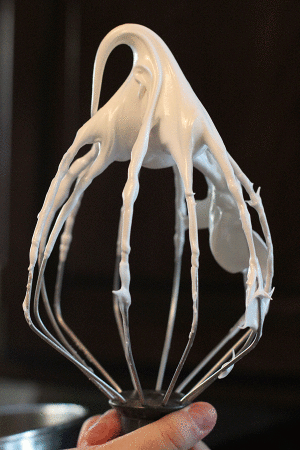 Into the bowl of a mixer, pour the egg whites, cream of tartar and salt and use a whisk attachment to mix together on a medium speed for 3 minutes.
Let the mixer keep running as you add in the sugar, a spoonful at a time.
Turn the mixer to high and let it run for 3 more minutes, or until the meringue is thick and forms stiff peaks (refer to picture).
Preheat your oven to 250 F, cover a baking sheet with parchment paper (or spray it down with nonstick baking spray) and dollop spoonfuls (as big or small as you'd like) of the meringue onto the pan. Press the back of your spoon into the center of each dollop to form a little bowl.

Bake for 1 hour, 20-30 minutes, making sure to rotate the pan halfway through so that the meringue cookies bake evenly.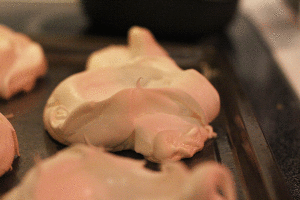 While the cookies are baking, make the jam. In a saucepan over medium heat, stir and heat the remaining ingredients until they begin to boil.
Remove the jam from the heat and let it cool a bit so that it thickens.
Remove the baked meringue (now pavlovas) from the oven and let cool.
Serve the pavlovas with warm jam and a mint sprig.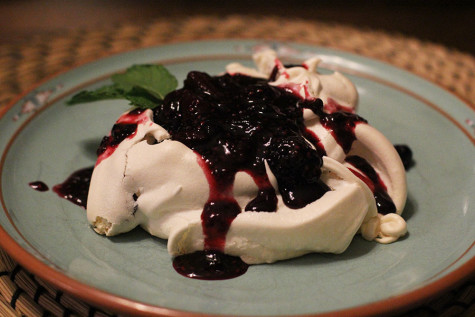 Here are some tips:
Use a stand mixer if you have one — it'll make whipping the meringue quite a bit easier in the long run

Chop up some mint and throw it into your saucepan when making your jam — it'll elevate the flavor a bit

Add about ¼ cup

bloomed

chia seeds to your jam for some extra texture

Easy, right? Just because they look absolutely fabulous and completely professional doesn't mean they're hard to make. Stop judging a meringue by the way it looks, please. Also, if any of you fellow foodies want to see anything in particular here on my blog, just leave a comment below or tweet me.
Junior Laken Wagner has been spending time in the kitchen since she was five years old, where both baking and cooking have always filled her extra time. She enjoys baking more than anything else and can frequently be found decorating cakes or trying out new recipes.
(Visited 74 times, 1 visits today)