Physical education teacher and wrestling head coach dedicates himself to the betterment of his team
In 15 years, Travis Keal constructs regionally recognized wrestling program from scratch
February 11, 2015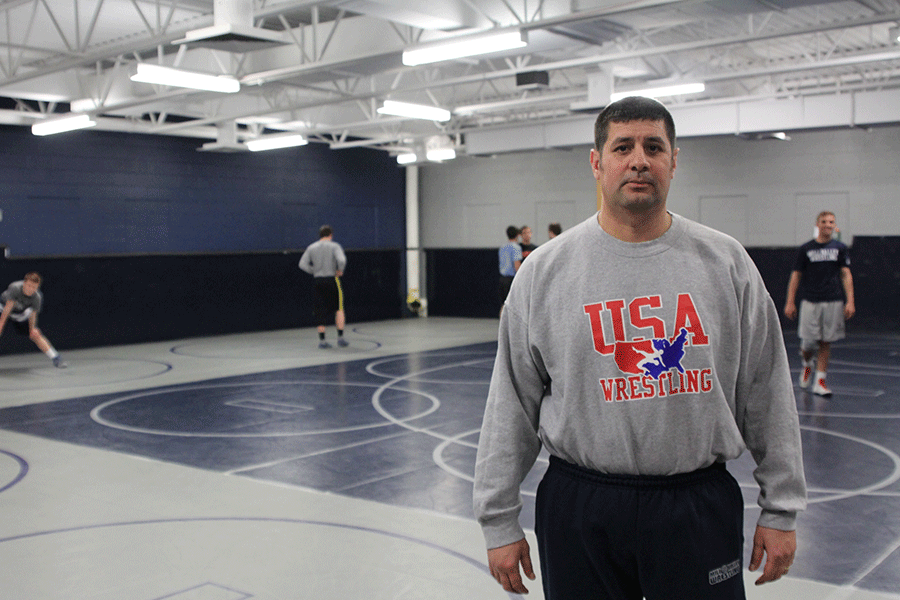 "The will to prepare must be greater than the will to succeed." This is just one of the many philosophies which have motivated boy's physical education teacher and wrestling head coach Travis Keal to push his athletes to the limit for the last 15 years.
At the start of his career, when the school first opened, Keal dealt with the challenge of crafting a winning wrestling program from scratch but has since seen immense improvement.
"[The wrestling program] was brand new; we had to start from the ground up and build," Keal said. "Every year we've gotten better from the very first year."
Currently, the wrestling team is ranked fourth in the Kansas 5A division. In recent years they have earned 3 Kaw Valley League Champion titles. Last year, they placed first at regionals and Keal earned the title of regional coach of the year.
According to former Mill Valley wrestler and current assistant coach Brett Delich, the wrestling program has been enhanced tremendously since his time wrestling in high school back in 2005.
"When I was [wrestling at Mill Valley] we never were in the top 5 in rankings," Delich said. "All that credit goes to Coach Keal for putting in the time to make sure all these kids are getting better."
One of the challenges Keal said he encountered at the start of his career was attempting to individualize his methods of coaching.
"You have to treat each kid individually," Keal said. "They're different. You've got to coach them different, interact with them different. You just have to have a different plan for each one of them."
Another method of Keal's, as described by Delich, is practicing with a specific goal in mind. A certain set of skills are emphasized each day at practice in order to help the team succeed in competition and throughout the season.
Delich attributes the success of the team to this system of objective-practices in combination with Keal's high expectations for his athletes.
"[Keal] demands a lot out of his wrestlers. He wants 100 percent focus all the time. If [the wrestlers] aren't focused, he makes sure they know about it," Delich said. "If they do what he asks, it's a breeze— he's super laid back and easygoing. But, for you to get that out of him, you have to give him a lot out of you."
Keal, however, addresses their success as the product of the team's preparation.
"
The will to prepare must be greater than the will to succeed."
— wrestling head coach Travis Keal
"Wrestling's a hard sport," Keal said. "It's very hard. You've got to prepare for it. If you prepare for it, you give yourself a very good chance to be successful as a team and as wrestlers and as coaches."
In order to be around wrestling Keal said, "you have to live that lifestyle of excellence, to try to pursue it."
For Keal, the pursuit of excellence entails spending extra time before and after school working with the team. Throughout the duration of wrestling season, Keal reciprocates the time and effort he insists from his wrestlers.
"It basically is my life this time of year. I'm gone every weekend, [at school] late at night, [at school] early in the morning," Keal said. "We've got a lot of great families and kids that work hard. It makes it fun to spend time with those people."
According to Keal, witnessing the results of hard work makes the large investment of his time worth it.
"[The most rewarding part of coaching is] seeing kids progress through the year and reach their goals, do something someone didn't think they could do," Keal said. "whether it's a JV kid, whether it's a freshman or it's a state champion, just seeing kids progress and perform above what they thought they could do."
In addition to developing their wrestling skills, Keal is known for developing character in his athletes through his philosophical sentiments.
"In my life, I use quotes daily. I was a college athlete so in college you need stuff like that to get you started because it's hard," Keal said. "I have daily quotes I read everyday so then I just started telling the kids at school and practice. Everybody would ask, 'What's the quote today?' and I just started telling them when they ask."
The lessons Delich said he learned from his time wrestling for Keal have had a lasting impression on him.
"A lot of the things he put into our head when I was in high school are things that stuck with me to this day —about values and character," Delich said. "He holds you accountable for everything — he wants to make sure you are prepared for life and not just a great wrestler. He's building men, not just coaching wrestling."
(Visited 53 times, 1 visits today)