Pep assembly recognizes spring activities and sports
The members of Mill Valley's original staff were also recognized to celebrate the school's 15-year anniversary
Tori Aerni, JagWire editor-in-chief
August 22, 2014
The first week of school culminated with a pep assembly recognizing students and faculty members on Friday, Aug. 22.
Freshman Heather Nguyen enjoyed her first pep assembly with her fellow classmates.
"I thought it was a lot of fun cheering, singing and honoring the teachers," Nguyen said.
Along with Nguyen, freshman Sabrina Uriarte enjoyed the spirited atmosphere.
"I liked singing the fight song … because everyone was alive and singing," Uriarte said.
As a kick off to celebrate the school's 15-year anniversary, the 16 members of the faculty and staff who have worked here since the school opened were honored as well. They are: communication arts teacher Justin Bogart, communication arts teacher Sara Sedgwick, science teacher Mary Beth Mattingly, science teacher Eric Thomas, World Languages teacher Edith Parades, math teacher Laurie Deuschle, business teacher Mark Chipman, journalism teacher Kathy Habiger, engineering teacher Arlan Vomhof, media center specialist Andy Shelly, physical education teacher Travis Keal, physical education teacher Bob Lewis, special education teacher Carmen Shelly, receptionist Edie Waye, paraeducator Vicki Ferleman and registrar Deana Thom.
Communication arts teacher Ashley Agre was excited about getting to walk through the jaguar head for the first time.
"It was so fun," Agre said. "I've been wanting to run through the jaguar head since we got it and I got to do that today, and check it off my bucket list."
Also recognized at the assembly were the following spring 2014 activities and athletics: Forensics: Raven Hodges 1 for prose and 1 for original oration… Henry Hanson 1 for Impromptu Speaking Brooklyn McCann 1 for dramatic interpretation Meg Green and Laken Wagner 1 for improvised duet acting Grant Gustafson 1 for prose reading Siera Thompson 1 for informative speaking Mason Cooper 1 in original oration Karla Kim 1 in extemporaneous speaking Megan Fuerborn: 1 in Improvised Duet Acting Five graduated seniors added to Mill Valley number 1 ratings.  They were Kara Lewis, Victoria Kilkenny, Daniel Ward, Madison Plouvier, and Joe Gunter, all taking home number 1 ratings.  A total of 14 number 1 ratings were earned by the forensics squad.  The team had an extraordinary spring season, congratulations to the entire squad Spring Play: The spring play, "The Man Who Came to Dinner," had a run of four performances. Over 80 students either performed or helped with the tech and set crew. The comedy was well received as the students enjoyed the great response from the sold-out crowds. Journalism: The journalism department won its second consecutive state journalism title in May. Students on the yearbook, newspaper and broadcast staffs combined efforts in writing, photography, design and videography to win the school's fifth state title in its 15-year history.  Baseball: The baseball program posted an overall combined 50-11 record. This was led by the varsity baseball team that ended the season with a 17-4 record and a third straight Kaw Valley League championship. Softball: The varsity softball team ended the year 18-5. The team ended the season by winning the regional title and qualifying for its second consecutive state tournament. Boys Tennis: The boys tennis team had its greatest season in team history. The varsity team placed second at regionals and qualified all six players for the state tournament for the first time. 2014 graduate Joe Vincent was the first MV tennis player to qualify for the state tournament three years in a row. Alec Bergeron and Andrew Bock were the first MV freshmen tennis players to qualify for state. Head coach Eric Ammerman was also voted Regionals Coach of the Year. Girls Swim: The girls team won the Kaw Valley League meet and went to state again in all relays and several individuals events. Our state team swimmers were: Elaine Bartlow Sherry Mcleod Olivia Hafer Alexis Medina Claudia Meredith Regan Jones Vicki Robinson Jennifer Sims Maddie Sprenger Julia Wheeler Meredith qualified in the 50 free and McLeod went in the 100 butterfly and placed ninth in the 100  back. Boys' Golf: Ben Hadden tied for 16th at state while Jalen Oehlert placed 19th and Jack Casburn was also a qualifier. The team also won the Lansing Invite, Spring Hill Invite, and KVL League Tournament. Girls Track and Field: The girls won the KVL meet for the 14th straight year, taking fourth at the 5A regional meet and eighth place at the state meet. KVL Champions were Holly Webb in the 100m hurdles, Margo Wieschhaus in the 1600m run, Kasey Meeks in the 300 hurdles, long jump and triple jump. Taylor Corbitt in the pole vault, in the regional meet Madison Holland was a champion in the shot. Taylor Corbitt was the class 5A champion in the triple jump. Kasey Meeks set a new school record in the 300 hurdles as well as Holly Webb in the 100m hurdles at the state meet. Boys Track and Field: The boys were the 2014 KVL champions (seventh in a row and ninth overall).  Kurt Loevenstein, Cody Deas, Jason Biesma, and Ben Carroll were all individual KVL league Champions.   The boys team also won a regional championship and placed tenth overall at state.  The state medalists were:
Kurt Loevenstein- 800M state champion and new school record
3200M Relay (CJ Meeks, Teddy Gillespie, Derek Meeks, Kurt Loevenstein) state champion and new school record
CJ Meeks- 800M Run -fifth place
Coltyn Bray- Pole Vault -fifth place
Cody Deas- 300M Hurdles -sixth place
1600m Relay-(CJ Meeks, Jason Beisma, Kyal Long, Kurt Loevenstein) -sixth place
Girls Soccer: Girls soccer was 11-8 with a good young team.  We had several players make all league, all metro and all state teams.  The team won its third consecutive regional championship.
(Visited 30 times, 1 visits today)
About the Writer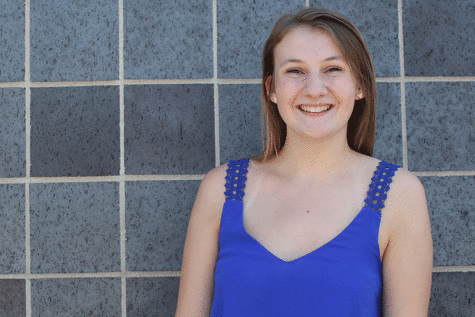 Tori Aerni, JagWire editor-in-chief
This is senior Tori Aerni's third year on the JagWire staff and her second year as an editor-in-chief. She looks forward to spending another year with the JagWire staff and putting out eight eye-catching issues of the paper. Aerni is also involved in NHS, SLT, Student Ambassadors and her church's youth group outside of the JagWire. She's a fan of concerts, the Kansas City Royals, chocolate milk and God. Her favorite artists include Taylor Swift,...