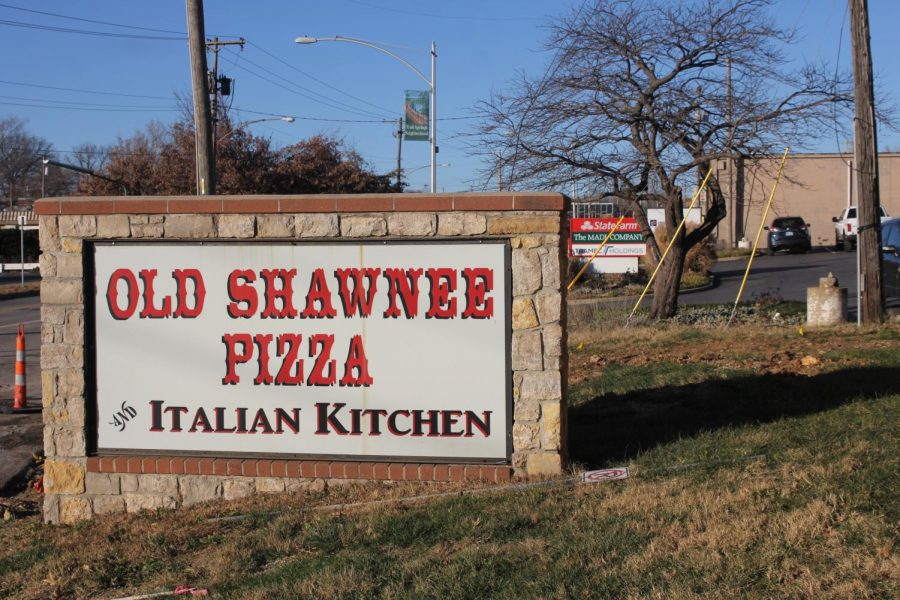 Old Shawnee Pizza presents homey atmosphere and recurring clientele
Long-standing Italian kitchen offers deep, rich history, as well as distinct pizzas
A walk through the dim, hardwood vestibule leads to the heart of the restaurant. Tables, chairs and booths with dark-clothed seats give the space a classic feel. In the back of the restaurant, just visible from the tables, an employee pulls a massive pizza stone from one of the many ovens. Take a short flight downstairs into the sub-level and find an open bar with a rustic, natural feel. Deer antlers and other animal memorabilia hang around the ceiling fans and fish plaques  hang on the walls. With a story behind the franchise, Old Shawnee Pizza offers more than just pizza.
Old Shawnee Pizza, formerly known as Pizza Shoppe until 2003, has been a family-owned business since it opened in 1969. The original Pizza Shoppe was located across the street from the current location at 6000 Roger Dr. Co-owner Joe Walker turned the McAnany house across the street into the restaurant. In 1985, Joe purchased two houses across from the McAnany house and built the current location.
Co-owner Will Walker, a second-generation owner behind his father Joe and alongside his sister Lisa Walker, branched off the franchise and made Old Shawnee Pizza in 2003. Will felt the new name would give a local ring to the restaurant.
"That was one thing that we wanted to change about being with Pizza Shoppe," Will said via email. "They didn't want to do anything different, and we wanted to try new things and stay up with the times. [When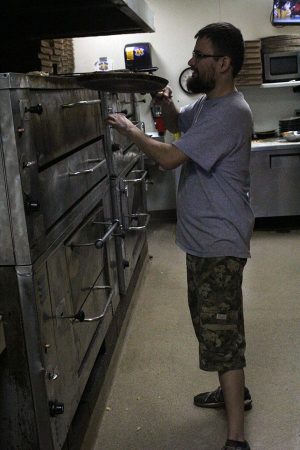 we broke off] we started to incorporate different styles of pizzas with different sauces, cheeses and have a variety of different toppings, along with more pastas, salads [and] sandwiches. That way there is something for everyone."
In the 27 years she's worked with the franchise, head server Cassie Brothers has seen the restaurant grow and change, as well as families expand, but one thing that's stayed the same is her love for the customers.
"I have the best customers. Pretty much nine out of ten [times I] know what the customer wants before they walk in the door because I've seen them so many times in so many years," Brothers said. "I kind of know the routine about them."
Freshman Sam Myers was introduced to Old Shawnee Pizza through his uncle and cousins, who have been going there a long time. Since his introduction, he's visited for several years. Myers feels the restaurant's history has helped it make its mark on Shawnee.
"A lot of people in Shawnee have been going there for a long time, and it's just been there for a really long time," Myers said. "It's a piece of Shawnee, you know."
For Will, the look and feel of the restaurant when he walks in attributes to the pleasant mood.
"It's definitely a homey feeling with a family atmosphere where a lot of local people know each other," Will said.
Whenever she's working, Brothers believes the restaurant is "bubbly and loud." As she works, she jokes with customers, regular or not, and makes sure everybody's happy before they leave. She loves her customers to know who she is and doesn't feel like just a server.
"I feel like I'm also a therapist," Brothers said. "I feel like I'm there for my customers, and I feel like I know when something's wrong with them because I've been with a family for so long. I see them grow."
According to Will, the menu variety sets Old Shawnee Pizza apart from other restaurants in the area and makes it unique.
"We do offer many different toppings and unique pizzas that you normally don't see at other places and along with our 'famous' garlic dressing that people come from miles around to get their hands on," Will said. "I also think being in business for almost 50 years kind of makes us a city icon that people want to go to."
Myers agrees, praising the thin crust of the pizzas.
"I like the thin crust, and on their all-meat pizzas in the roundtable they really add a lot of extra meats and they really fill it up," Myers said. "It's very filling."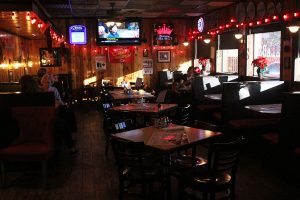 The food hasn't been the only impact Old Shawnee Pizza has made on Shawnee.
"I believe that we have employed a lot of Shawnee kids throughout the years and have also helped in sponsoring
many ball teams and fundraisers for schools," Will said. "We enjoy giving back to the community because the community has given us the opportunity to be in business for as long as we have."
Brothers concurs and also believes the aspect of the restaurant being family-owned has added to Shawnee's culture.
"[We do] anything to help our community because our people are always helping us out. We're a family-owned business, and I think family-owned businesses should definitely help one another out," Brothers said. We've been here for so long that everybody knows everybody. There's not a stranger. Even if you are a stranger, you sure aren't going to be a stranger after you leave here."
(Visited 327 times, 1 visits today)