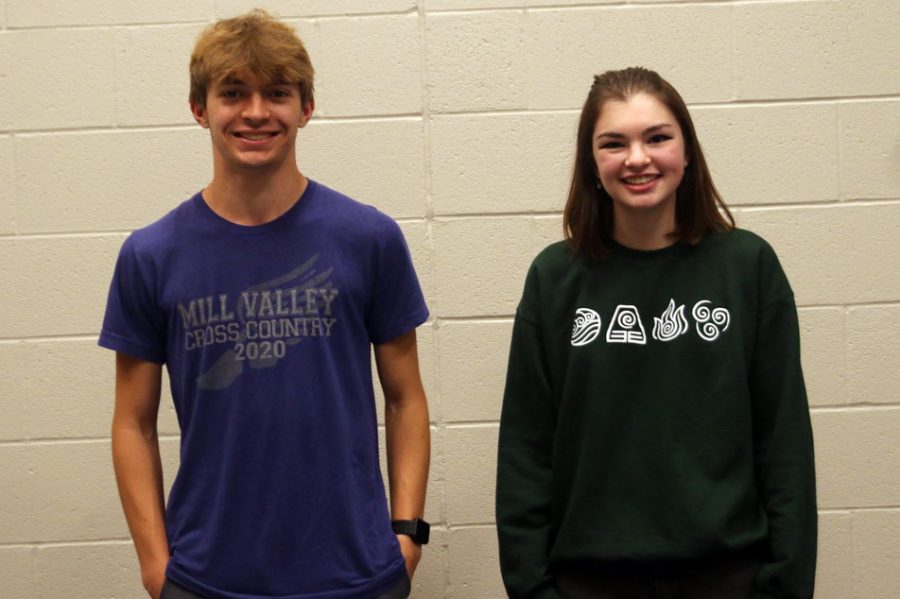 November commemorates National Scholarship Month
National Merit students get recognized for their academic achievements
November is National Scholarship Month; a month that gives credit to academic scholars for their hard work. Two National Merit scholars at Mill Valley are seniors Grace Emerson and Aiden Burke. 
Over 1.5 million students and 21,000 high schools enter the National Merit Scholarship Program every year. The National Merit Scholarship Program is a national academic competition for high school students based on their PSAT score, by the National Merit Scholarship Corporation. Among the millions of students only the top 50,000 are commended for their outstanding PSAT scores. 
The standard for the PSAT score necessary to qualify for the National Merit Scholarship Program changes every year. 
Emerson states that, "the National Merit Association has a selection index, which is basically a measure of how well you did on the test, but it varies every year and it varies per state. So I had to score well enough on that selection Index, but not well enough to make the semi finals."
Getting a high score on the PSAT is not always an easy task. Emerson credits her high score to a Voyager's review she did before the test.
"I attended one meeting in Voyagers, where our Voyagers instructor had us do a practice test with SAT style questions, and then I looked at math equations the night before and that was pretty much it," said Emerson. 
Burke explains that he prepared for the PSAT just like he would any other test. 
"It's pretty much the same kind of studying as you'd do for any kind of standardized testing," said Burke.
Furthermore, Burke emphasizes how important it was for him to take the PSAT his sophomore year. 
Burke states, "I would recommend taking it as a sophomore if you want to do it as a junior because for one thing, it just gives you a good understanding of how the test functions and what kind of questions you can expect. And your scores as a sophomore don't actually matter for anything, but it just kind of gives you a better chance to do better when you are a junior."
(Visited 35 times, 1 visits today)