Senior wins Individual title for the golf Sunflower League
Senior Nick Mason obtains individual golf title for the 2020-2021 school year
KSHSAA announced on Monday, May 3 that senior Nick Mason was named individual title recipient for the golf Sunflower League. For the current season, Mason had a low score of 70 and a high score of 80, leading to an average score of 72.9. He played a total of seven rounds and received a score of 72 at the Olathe Northwest invitational.
Mason explains that this was not his first time winning an award for golf.
"This is not my first award. I have been fortunate enough to have a great group of coaches around me who got me started very early," Mason said. "I do not remember my first award, but it was most likely around when I was seven or eight."
For the current roster career stats for Mill Valley, Mason scores a low of 69 and also has a high score of 82. With an average of 74.8, he has played 24 rounds.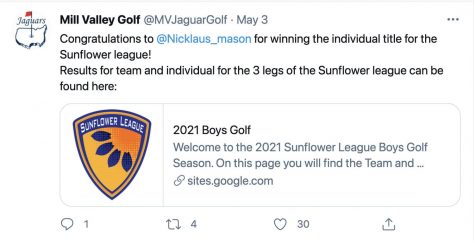 During this year's golf season, Mason was proud of his ability to overcome any shortcomings and pull through to win the individual title.
"I was very proud to win. I wasn't expecting to win because I didn't play that great, but I was lucky enough to pull it out at the end," Mason said. "I have put hours and hours into this sport and it was a true tell of how hard I have worked to get to where I am today." 
Despite Mason being shocked that he received the individual title for the golf Sunflower League, varsity coach Drew Walters is not surprised about Mason's winning.
"Nobody was shocked about Mason winning. He is one of the best players in the state of Kansas. He is a talented player and works very hard to be better," Walters said. "He has won many tournaments in his career already and hopefully will win a couple more this season."
This season, the team has made some different improvements to help the training of the golfers. Walters explains how they have changed up their strategy to help train for the new season.
"We use a variety of training strategies, playing different golf courses for practice, range sessions, short game sessions, and putting sessions," Walters said. "We try to have fun while getting better at all of these. We try to have some competitive competitions against each other."
"
"I was very proud to win. I wasn't expecting to win because I didn't play that great, but I was lucky enough to pull it out at the end,""
— Nick Mason
Even though the improvements and the hard work put in, Walters shares how there were some obstacles during the season.
"The biggest obstacle for the team this season was a lack of experience in tournaments," Walters said. "We only returned one golfer with Varsity experience in competing in tournaments and it takes some time and adjustments to get comfortable in playing with these."
Mason is looking forward to successfully finishing his senior season by aiming to score a low golfing average.
"With regionals and state coming up, I am very excited to play next week," Mason said. "My golf game is in great shape right now and I am ready to go shoot some low scores."
You can look at the current golf Sunflower League Standings here: https://sites.google.com/students.olatheschools.com/sfl-boys-golf?source=gmail
(Visited 147 times, 1 visits today)
About the Writer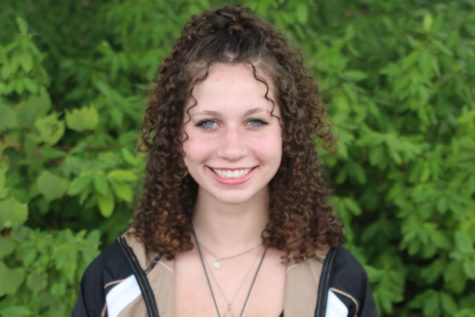 Maya Parks, JAG reporter/photographer
This is junior Maya Parks' second year on the JAG yearbook staff and she will be taking the position of a photographer. Outside of school, she enjoys hanging out with friends, going to coffee shops and working. She also likes to watch Netflix, drive around and spend hours online shopping.