NHS hosts "Know Ya Boo" game show
Seminar event challenges couples in honor of Valentine's Day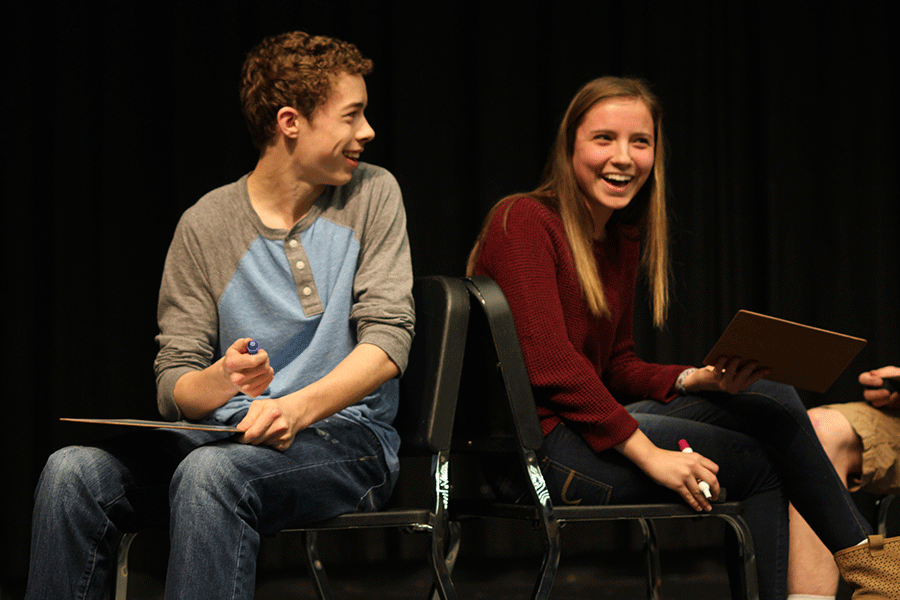 Seniors Cody Postlewait and Alex Barney won the "Know Ya Boo" game show contest hosted by NHS on Wednesday, Feb. 11.
Other contestants included freshmen Luke Guilford and Hailey Stelle, sophomores Hunter Paxton and Danie Graviette and juniors Meg Gerhart and Will Dervin. The couples sat back to back, were asked various questions about their significant other and wrote their responses on a white board. If their answers matched up, they received a point. About 150 students attended.
Postlewait said the win came as a shock, as he did not expect to answer many questions correctly.
"I was really surprised when we won," Postlewait said. " I didn't think we did well in the beginning, but our answers matched more than [the other couples']."
Junior Siera Thompson found the event to be an entertaining way to spend seminar.
"It was really fun," Thompson said. "It was hilarious when Will and Meg got one of the questions right and he flipped out because he wasn't expecting it."
While "Know Ya Boo" did not take place last year, the event has occurred in years past. Thompson said she thinks the game show should be an annual tradition.
"I think they should definitely do it again next year," Thompson said. "It was better than going to seminar and it was super funny."
Postlewait and Barney plan to use their gift card reward to celebrate on Valentine's Day.
"We're going to go out to dinner, probably at Red Lobster, watch a movie afterwards and have a great night," Postlewait said.
(Visited 10 times, 1 visits today)