Student Leadership Team awards first Teacher of the Month honor
Physical Education teacher Travis Keal wins award put on by the new SLT committee called Student-Teacher Relations
Physical education teacher Travis Keal won the October Teacher of the Month award, established by a new committee in the Student Leadership Team.
"I come to school everyday and teach with passion and hopefully motivate my students with my daily quotes," Keal said. "If I am motivating one person, then I am doing my job."
SLT has developed the new committee called Student-Teacher Relations, which aims to improve the way students and teachers interact. Committee head Ashley Agre said this change was brought about to help teachers and students develop a mutual respect.
"There seems to be a disconnection where students feel teachers don't really respect them, but it goes both ways," Agre said.
So far, the committee has provided a cart of treats offered to the teachers at parent-teacher conferences and the newly established Teacher of the Month award.
Senior committee member Jacob Patterson said that students and teachers must get along to create a positive relationship.
"Student-Teacher Relations is important because students and teachers have to interact everyday," Patterson said.
Over the next couple of months, Agre hopes to continue to work on the respect between students and teachers.
"We will be doing something to thank the teachers who really put in the extra time after their work day is over to stay and help their students," Agre said.
In Patterson's opinion, the way students and teachers communicate is the most important aspect of the classroom.
"The relationship between a student and a teacher can affect the whole classroom and can determine how well a student learns," Patterson said.
Agre hopes this committee will help the students and teachers get to know each other.
"My end goal is for the students and teachers to be able to work together to make this a place that everyone enjoys coming to," Agre said. "Also, for students not to be afraid of teachers and for teachers to get to know their students."
(Visited 40 times, 1 visits today)
About the Contributor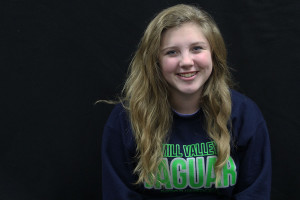 Ellen Merrill, JagWire reporter
Junior Ellen Merrill is a reporter and first year staff member for the Jagwire. She also plays volleyball, is involved in StuCo and Student Ambassadors and is a freshman mentor. In her free time she enjoys driving in her Jeep and spending time with family and friends, like  Annie Crouch. Laughing is her favorite thing to do. She lives by the words of Hannah Montana: "Life's what you make it so lets make it rock!"