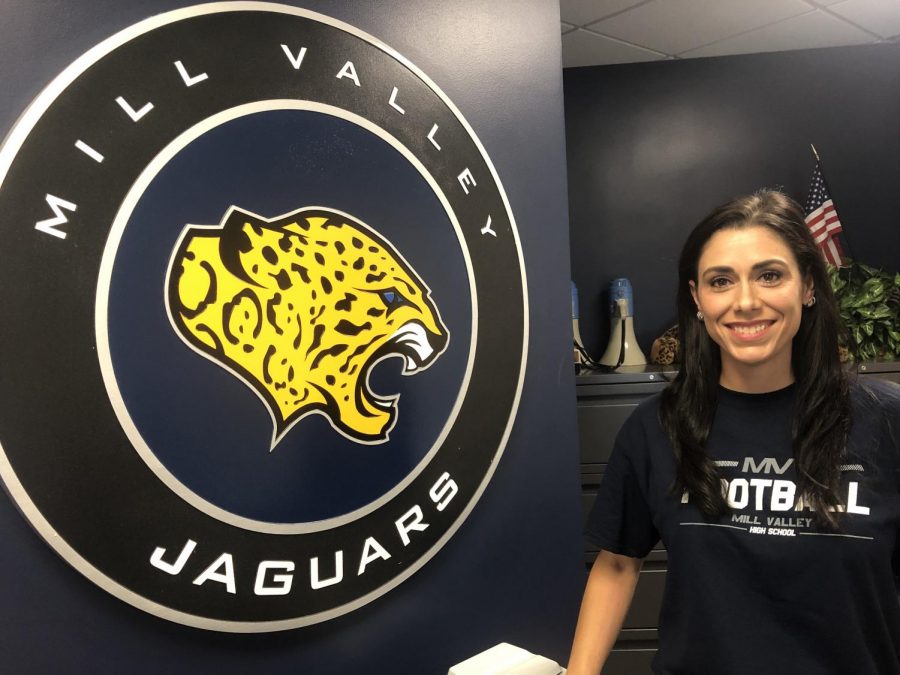 New secretary looks forward to getting involved
Leslie Wilson discusses her love for sports and a new atmosphere
Mill Valley News: What is your background?
Secretary Leslie Wilson: Before [the school], I was in sales. I'm a mom of four children, I have a daughter that goes here, and I really wanted to be on the same schedule as the kids. So that's why I switched over to the building secretary here at Mill Valley High School.
MVN: What do you do in your free time?
LW: I like to golf. I'm on a co-ed volleyball team on Friday night. Also, I'm on a co-ed softball team. We're not in season right now. I like to go kayaking with my son who's in middle school. I do a lot of driving my kids around to their activities. 
MVN: Where did you attend college?
LW: I finished up at KU, so I'm also a Jayhawk. 
MVN: What's your favorite thing about the school so far?
LW: Probably the students and the staff and the teachers, everybody has been really welcoming and helpful and better than I could have imagined.
MVN: What school events are you looking forward to attending?
LW: I'm looking forward to girls golf, as my daughter is on the golf team. I've never been to a cross country meet but I'm going to do that for the middle school, so I'm looking forward to that. That's going to be a new adventure. 
MVN: How is the school different from your previous job?
LW: It's not sales, I don't have to sell anything. It's fast-paced here, but it's different. Sales were stressful and you work a lot.
MVN: What's something on your desk or in your office that has any sort of special meaning to you?
LW: I don't have anything yet, but I love jellyfish. That's my favorite animal. I have a jellyfish tank at home with four jellyfish in it. I would like to bring that here. They're little and they're fake, not alive. It's just calming and relaxing and so maybe I'll move them over at some point, I just have to find a spot on my desk. 
(Visited 24 times, 1 visits today)