New principal Gail Holder adjusts to her position during COVID-19
When new principal Gail Holder accepted the job of principal in February she had no idea that her first year would be impacted by COVID-19.
When new principal Gail Holder accepted the position in February, she couldn't have imagined that her first year would be drastically altered by COVID-19. 
Having never been principal before, Holder doesn't have anything to compare her first year to. 
"I've likened [dealing with COVID-19] to the fact that I don't know what I don't know. I've never been a lead building principal before," Holder said. "I think there's just been more to consider and more to think about in terms of starting a school year such as communication."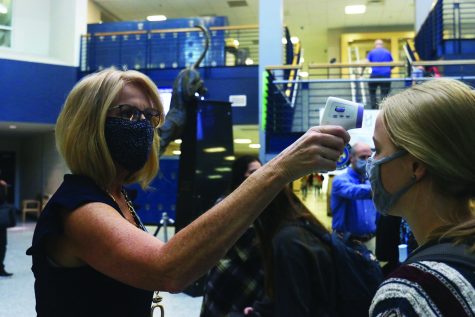 An added hurdle that has pegged Holder is the difficulty to communicate with parents, students and staff with changes the administration has had to implement this year due to COVID-19. 
"The most challenging part has been staying on top of communication because what makes sense to me or my administrative team may not make sense to a parent community or to a student community. Not everybody understands…why we're doing certain things," Holder said. "I have to just make a decision and move forward with it, so I think I've tried my best to stay as transparent and as communicative as I possibly can."
Student body president senior Ellie Boone believes that despite the challenges surrounding communication, Holder has found ways to stay in touch with the student body and take their input. 
"I have had a meeting with Dr. Holder, and one thing that really stuck out to me was her willingness to listen to our ideas and help us create solutions that cater to the needs of the students and the community," Boone said. "She's always open to getting insight from the student body, which is super admirable."
For guidance, Holder has sought out advice from administrators and district colleagues to get input on how to best deal with this year's unique challenges.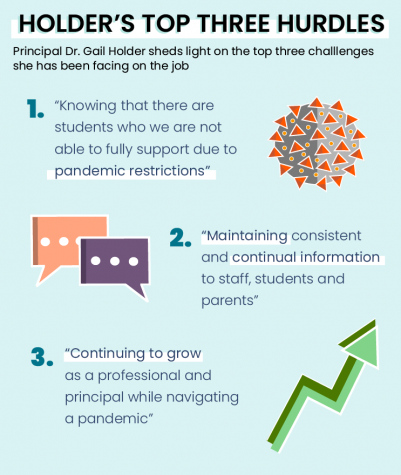 "[De Soto Principal] Mr. Ruff has been really great about providing me some great feedback and helping support a lot of the things that I'm doing and questions that I have," Holder said. "I have a couple of mentors in the administrative world whose opinions I value…[and I've] reached out to them. In this kind of a job, a district hires you and they expect you to a certain extent to figure things out."
Boone believes that Holder has done a great job adjusting to the school and hopes that she will continue to form a strong relationship with the student body.
"Dr. Holder is definitely adjusting well as being the new principal here, in the sense that she is truly making an effort to know the students here. I always see her greeting students and asking about their day, which makes the students feel seen," Boone said. "I hope to see Dr. Holder foster a great relationship with our student body, which I already see her doing."
Much like Boone, StuCo sponsor Erica Crist believes that Holder has done well working with the student body to maintain traditions and navigating challenges.
"Dr. Holder has led with a "this is what we can do" attitude rather than a "this is what we can't do attitude. For example, that has been her attitude as we've planned Homecoming," Crist said. "Homecoming is going to look very different this year, but we're still trying to keep some of the traditions and have time for celebration."
Crist hopes that as the school year progresses parents and students start to see the changes to this school year through a positive perspective.
"…The policies and procedures are new to everyone, and as Dr. Holder has stated previously, we're learning to fly the plane while it's in the air," Crist said. Be positive, not everything is going to be sunshine and roses, but how we approach things…can have a huge impact on how we navigate the changes."
(Visited 239 times, 1 visits today)