New members inducted into National English Honors Society
As a part of the NEHS induction ceremony, 35 new members received their certificates and celebrated afterwards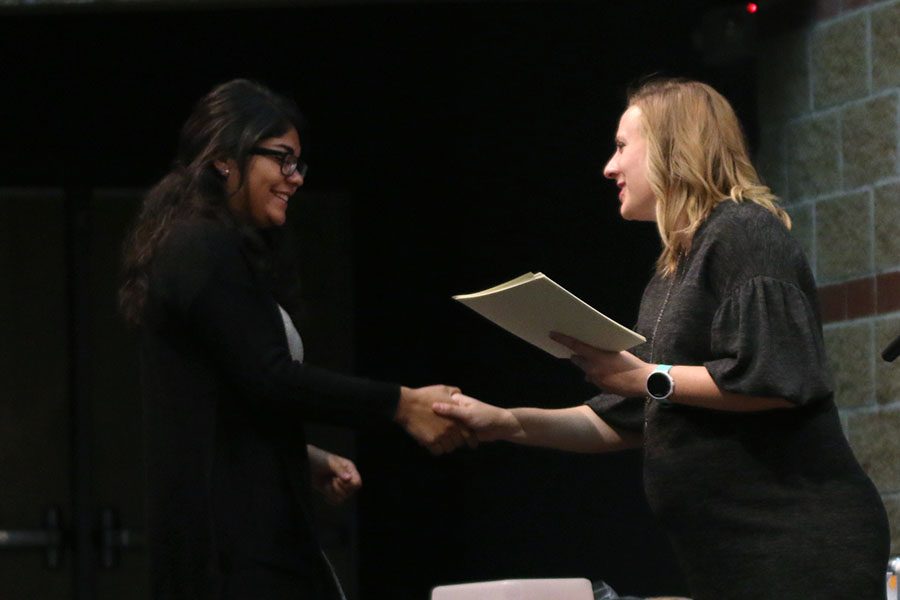 Gathering with their families in the Little Theater on Wednesday, Oct. 10, National English Honors Society inducted incoming members into the society for its third year at the school. The ceremony started off with speeches given by the sponsor, English teacher Page Anderson and senior NEHS president Elizabeth Joseph. After the inductees walked across the stage and received their certificates, each member celebrated by enjoying food and beverages with their families and friends.
Although only having one meeting with the other officers to prepare for the ceremony, Joseph believes the induction went well.
"I thought it was a nice conclusion to the end of my career in NEHS, and I thought it was the smoothest [ceremony] we've had in my three years being an officer in the society," Joseph said. "Compared to other induction ceremonies, it's a lot more casual but still formal at the same time, which I really enjoyed."
New inductee sophomore Emily Feuerborn would not have changed anything about how the ceremony went.
"It was very calm and relaxed and not very stressful," Feuerborn. "[The best part was] definitely the food."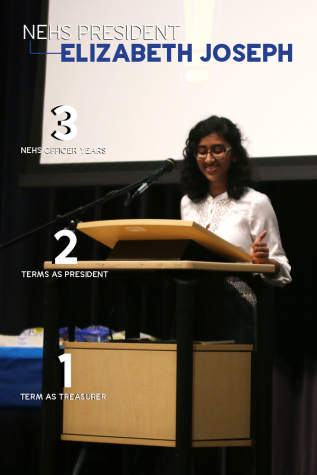 Despite the ceremony's relaxed atmosphere, Joseph explained in her speech the society hopes to "encourage interest in communications, promote character growth and learning, and serve to foster literacy in our community and society." She went on to discuss how "at the heart of all good literature is communication of truth and story-telling."
In senior Jack Jaworkski's opinion, viewing the ceremony as a returning member proved to be impactful.
"I thought the speeches were really good [and] they'll be some of the most memorable ones," Jaworski said. "The actual swearing in [to the society] is a powerful thing to see as a [returning] member because it makes you reflect on yourself, that you were in that position [and] now you're kind of passing on the torch."
Society induction required potential members to have a 3.0 GPA or higher in English, a 3.0 GPA or higher cumulative with the rest of their classes, as well as write a short essay over why they would like to be a member of the society. Joseph believed that the easy accessibility to this society was important.
"English, because we all speak it, is probably the most accessible honor society that you can get in to," Joseph said. "Having an honors society enables you to view English as a language and as a discipline in different ways than just being in class."
As the year progresses, Jaworski hopes for members to become more connected with each other and the society.
"I'd like to encourage other members to get closer to each other [and] I would also hope for more attendance of the events," Jaworski said. "More things for us to do throughout that would help us have a better connection with the club."
Joseph's goals for the society not only include continuing the annual carnation sales and poetry nights, but also leaving her legacy by starting new events.
"Something that I really want to do [this year] is [an] appreciation week,"Joseph said. "If there's one thing I want my legacy to be as NEHS president, it's that English is accessible and also we can use communication as a way to be kinder to everyone."
(Visited 28 times, 1 visits today)
About the Contributor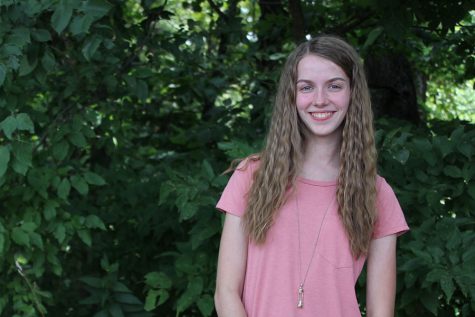 Annika Lehan, JAG editor-in-chief
This is senior Annika Lehan's third year as a part of the JAG yearbook staff. This year she will hold the position of editor-in-chief alongside Libby Mullican and Mia Thomas. Along with being on the yearbook staff, Annika is a part of Thespians, NHS, French NHS, French Club, and MV Outreach. She enjoys participating in both the fall musical and spring play, as well as reading, making art, going on walks and having fun with friends.