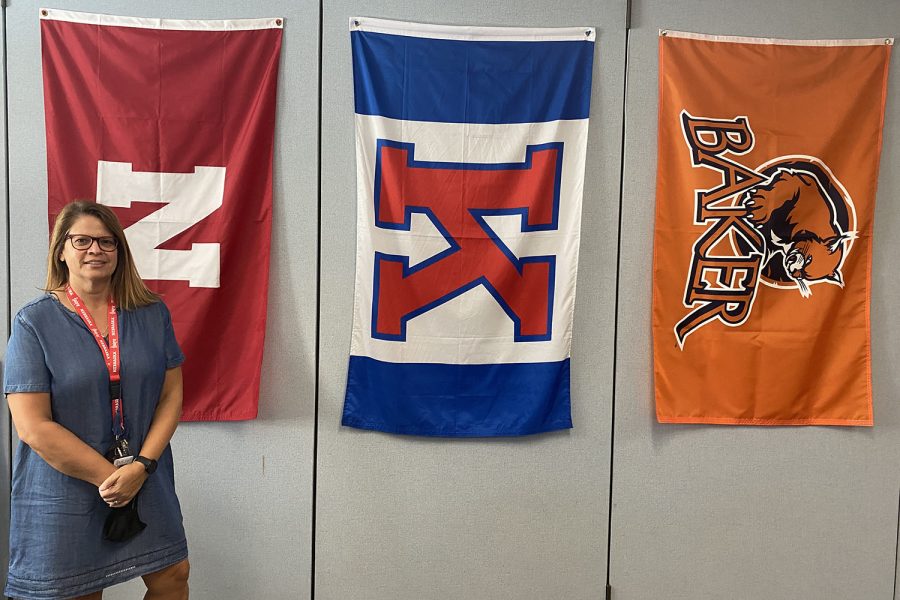 New math teacher strives to teach students the importance of the subject
Michele Anderson came out of retirement to return to teaching her favorite subject: mathematics
MVN: How long have you been teaching? 
Math teacher Michele Anderson: I taught for 25 years over in Missouri.
MVN: Do you have any goals for this school year?
MA: Well, I think the same goal for me every year is to just make math pertinent to kids and to have them understand the importance of math without having it be frightening.
MVN: So what college Did you attend? And what was your major? 
MA: So I went to the University of Nebraska and my major was political science and economics. Then I went to the University of Kansas, and I did my Master's in math and education. I also did my Master's at Baker.
MVN: What was your first impression of Mill Valley?
MA: Everybody was really friendly and I've had kids every day thank me. They thanked me for handing them a quiz. They're just very pleasant.
MVN: What are you worried about for this year?
MA: I think just even having taught 25 years, it's my first year here. So [I am] finding out the vibe of the building and the kids and I have a brand new curriculum, brand new state standards, everything. Everything's brand new. Keeping my head above water, that's what I'm trying to do.
MVN: What school events are you looking forward to attending?
MA: I'm a big band parent. My kids are in marching band. I love all activities, but I really enjoy a good football game with the band and whatnot. I always love the band and the music.
MVN: Why did you apply to the school?
MA: I applied because I retired but I knew that I wanted to keep teaching. Also, [math teacher Dianna] Heffernon works here and I used to work with her, so I knew I knew there'd be a friendly face here.
MVN: Why did you want to get into education?
MA: Both my parents were in education, and I kind of thought that's what I wanted to do. I wanted to do something with math, and I just really didn't know how I could best use that. My thing with math is it shouldn't be scary, we still make mistakes, but it doesn't need to be frightening. I felt like maybe that was what I was supposed to do is to help people see that it doesn't have to be overwhelming.
MVN: Is there anything else you would like us to know about you?
MA: I just really appreciate when people say hi and they help me out with whatever. So I think sometimes if you got a mask on your face, you can't really tell if somebody's looking at me or they're smiling. So, continue to be friendly.
(Visited 21 times, 1 visits today)