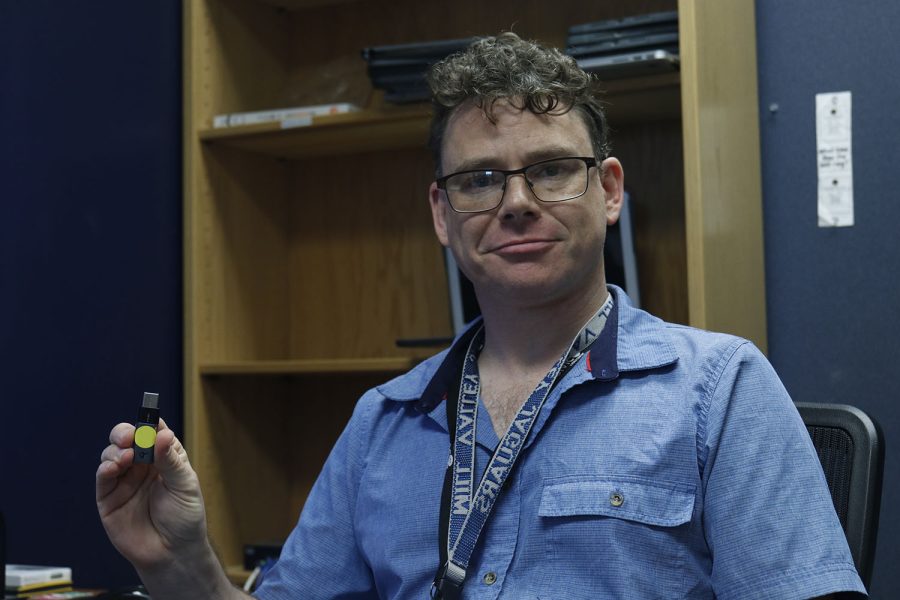 New IT field technician comes to Mill Valley after two years at TechnoServe
Mill Valley News: First question, just tell me what your background is.
Darrell Bunger: Well, I started out in the Navy, right out of high school, learned electricity, learned how to be an electrician and I also learned IT a little bit toward the end of my career in the Navy. [Later,] I went to school at DeVry to major in electrical engineering from 2000 to 2002. I didn't really have a minor, computer science is the closest thing I would've done for a minor.  I've been working on IT in some shape or form ever since about 2002.
MVN: Thank you for your service. How did the Navy expose you to the world of technology?
DB: Towards the end of my deployment, [the military] stationed me at a Navy legal service office and they put me in the IT department. I was just doing basic tests and I liked it.
MVN: Where did you teach before you came here?
DB: I worked at a company called Technoserve. I was there for two years, that'd be starting in 2020. I was also an IT Field Technician.
MVN: What are some goals you have at Mill Valley this year?
DB: I don't know if I will reach this goal, but I can get close to it. I'd like to have as many people's issues resolved as possible.
MVN: Any other goals?
DB: Well, I'm looking at getting some more certifications, IT certification so I'd be getting my Security Plus. A Security Plus covers all the basics in the field of IT security [i.e.] cybersecurity. It's all about cybersecurity. 
MVN: What are your goals that you have for yourself outside of Mill Valley this year?
DB: I'm a drummer. I'd like to start playing with bands again. I've been in different bands before. So far, the Late Fees has been my favorite band. The last time we played together was mid 2020 in june. COVID killed a lot of our gigs
MVN: Do you have any other goals for yourself outside of Mill Valley
DB: Not really, just focused on getting the band back together.
MVN: This question might go hand in hand with the last one but what do you do in your free time outside of school?
DB: Well music, obviously. I also like to play games, video games. Occasionally, I've played Dungeons and Dragons; I'm not a dungeon master, just someone who plays. I heard [a few days ago] about the Dungeons and Dragons club here at school. I like racing and flight simulator games. I like the speed of the games; I don't normally get to drive or fly and drive that fast. I don't think my PT Cruiser could handle it. 
MVN: How is working at Mill Valley as an IT field technician different from your previous job at TechnoServe?
DB: The biggest change is that I'm working with all students. TechnoServe was an MSP so we worked for all different companies, over 180 different clients. FOr those companies we would provide tech services to them. If they had a problem we fixed it.
MVN: What brought you to Mill Valley?
DB: I landed the job through K12; they brought me here. It was completely online through Indeed. The work benefits here are better like health insurance and dental and vision insurance. Those are the big ones right there. Plus I get more vacation days.
MVN: Before we wrap up, what else would you like me or anyone who reads the story to know about you?
DB: Just that I love beauty, I love life. There's beauty in life. That's what I love about life.
(Visited 51 times, 1 visits today)