New district guidance related to gender identity requires parental approval
The district hopes to guide teachers on matters of gender identity while also creating a process for student name changes
Late this August, USD 232 finalized a new guidance on student gender identity for teachers to follow in school. The guidelines, titled "Guidance Related to Gender Identity," outline that student name and pronoun changes will have to be approved by the student's family before a teacher can refer to the student that way in school.
This guidance was made as a collaborative effort by building principals, social workers, counselors, district administrators and other professionals to help direct teachers in the ever-developing field of gender identity. Because there are no state laws with specific rules on this topic, school districts are largely left to their own discretion. 
The district guidance is similar to recently established policies in the Olathe and Shawnee Mission school districts, which advise schools to go about gender identity in a similar way.

Before the guidance was in place, teachers were left to their own discretion in navigating student gender and names. Now teachers are advised to report to a building administrator if they "become aware" of a student's request to go by a different name or gender. The change would make its way through administration and up to counseling, where parents would be contacted to reach an agreement of what the student will be called during school.
Assistant superintendent of principals and communications Alvie Cater works at the district level and was one of the people involved in the creation of the guidelines.
"[The guidance] really was designed to help teachers, who are just not sure how to navigate this particular issue," Cater said. "Our priority is to support students, and there are limitations to what we can do without parental consent. It's really just designed to provide a way to navigate the process, and hopefully get students connected with our caring professionals who have the expertise to assist and provide support."
Principal Dr. Gail Holder has already gone through this process with at least six students this school year and has managed them each on a case-by-case basis in order to best help advocate for the student.
"Sometimes the student will say, 'Can you give me a week to tell [my parents]?'" Holder said. "Sometimes a student will say, 'I'd really like for you to talk to my parents' [that's] no problem, because sometimes we are the front-line people. We are the ones that have to go in to advocate for students who don't really feel comfortable advocating for themselves."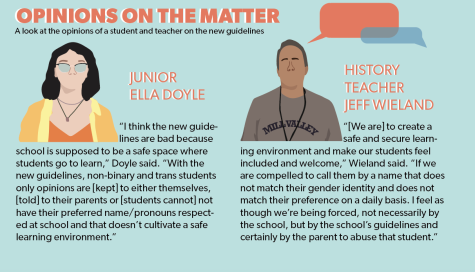 School social worker Debbie Gudenkauf has also worked closely with the students affected by this policy and emphasizes the complexity of the situation. 
"This needs to be addressed on an individual basis," Gudenkauf said. "There are often so many factors going into this decision that it's not a simple black and white answer; there's a large area of gray through which students and families need to have open and honest conversations. Our priority is to help support all students feel connected to their school so that they can have a positive place to learn and be successful academically."
Though the guidance is fairly new, some students have already begun to feel the effects of its creation.
For freshman Lynx Rains, pronouns are important to not just their identity but also their mental health. Rains has already gone through the process laid out in the guidelines and has gotten parental permission to be called by their preferred name and pronouns, Lynx and they/them, which the administration was helpful with. However, Rains sees the dangers in the guidelines for students who are not out to their parents. 
"If my parents didn't know about it, I would feel really unsafe," Rains said. "I would not be comfortable and I would be put into a situation I would not want to be in. I don't think it's justified because a lot of people who are not out to their parents but still go by a nickname are put into unsafe situations."
Sophomore Evey Maniquis, who prefers to go by Sam, has not gone through the process to be called the name and pronouns that Maniquis prefers during school because the parents are unaware of Maniquis' gender identity. Despite this, overall academic experience is not disturbed by being called a non-preferred name and pronouns, though Maniquis does think the guidelines should be changed.
"I think they [shouldn't] announce it to the parents," Maniquis said. "Just talk [about changes with] students and let the student do it on their own."
(Visited 646 times, 1 visits today)