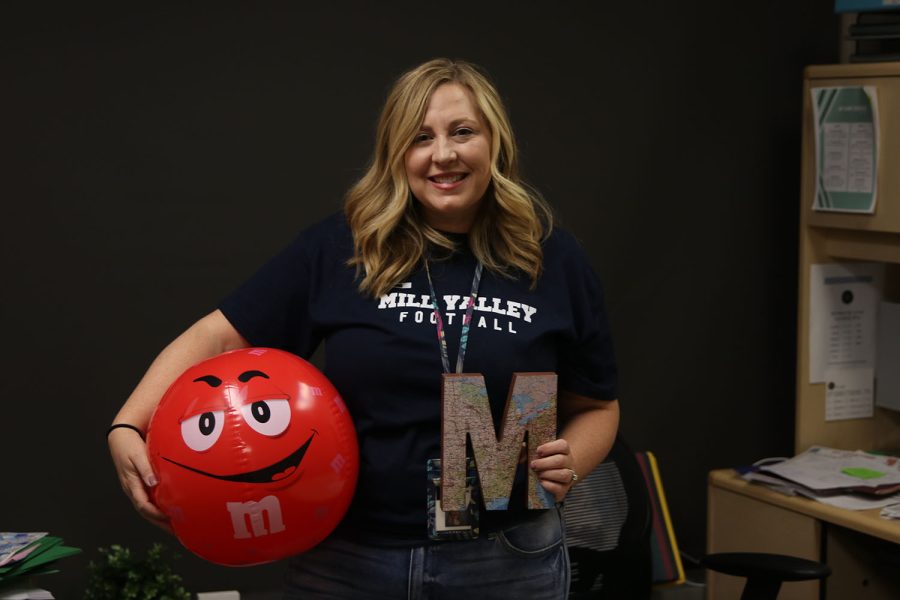 New counselor can't wait to start connecting with students
Inspired by a counselor from her own childhood, new counselor Megan Mixon is excited to have a positive impact on student's lives
Mill Valley News: What is your background in counseling? What did you do before you came to MV? 
Megan Mixon: I was a high school counselor before I came here. I was a counselor at Piper High School last year and I worked at Mill Creek before that. I worked in the corporate world before then for about 15 years, and then I got my masters in counseling and did my internship at Mill Creek. 
MVN: What are your first impressions of Mill Valley?
MM: It's huge. It's really big, especially compared to the school I was at last year. 
MVN: Why did you want to go into counseling?
MM: Counseling is something that I really enjoy doing. I actually had a cousin that passed away from an overdose and our family really benefited from counseling. That really had an impact on me, the counselor that I had caused me to want to go into counseling. 
MVN: Describe something on your desk or in your office that has a special meaning to you?
MM: I have an "M" sign. My name is Ms. Mixon and my first name is actually Megan. This was given to me by one of the English teachers I worked with and I really like it because it reminds me of my family. It also reminds me that I can do things outside of this office. 
MVN: What do you do in your free time outside of school?
MM: I have two kids so I run them to a lot of activities. We really enjoy football and Chiefs games. My husband also does a competition barbeque team and we do a couple of barbeque competitions a year. 
MVN: What else would you like everyone to know about you?
MM: I would like everybody to know that they're welcome to come and say hi or come to my office. I'm really excited to work with everybody here and so far the students have been awesome. I just want everyone to know that anybody's welcome and to come by and say hi. 
(Visited 27 times, 1 visits today)